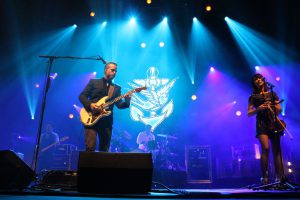 A buzzing crowd filled the dimly lit Fox Theater moments after long-standing folk-country renegade James McMurtry concluded his brief eight-song set. Chatter in the crowd ranged from praise for McMurtry, friendly conversation and heightened anticipation as the stage was set for Jason Isbell and the 400 Unit to conclude their two-night stay at the Fabulous Fox Theater on Feb. 9.
The lights went down and the six-piece band took the stage as their iconic bird and anchor logo began to illuminate behind them. A crawling guitar riff resonated from the darkness as bright lights descended down onto the stage and the moment had arrived. The crowd quickly rose to their feet in applause and Isbell's voice rang out.
"I used to think that this was my town, what a stupid thing to think," sang Isbell as he and the 400 Unit opened their 20-song set with the fiery rock anthem "Hope the High Road", which was the lead single from their Grammy-winning 2017 album The Nashville Sound.
The electrified crowd collectively cheered and sang along as Isbell and the 400 Unit followed their high-energy opening with their much slower hit single "24 Frames" which won a Grammy for Best American Roots Song in 2016. This transition would set the tone for the rest of the night as the group performed material that spanned across Isbell's entire 17-year career and encompassed themes of everything from love, self-reflection, good memories and heartbreak.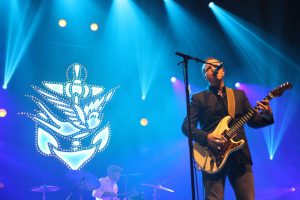 Two themes that fit hand-in-hand with one another throughout the night were those of love and sobriety. Isbell and his wife Amanda Shires, who plays the fiddle and performs harmony vocals for the 400 Unit, stood beside each other all night and often engaged in moments of vulnerable and intimate duet. This intimacy was no more apparent than when they performed the romantically charged "Cover Me Up" which Isbell wrote for her, mentioning how she inspired him to turn from his life of alcohol and substance abuse and to pursue a life of sobriety.
"I sobered up and I swore off that stuff forever this time," sang Isbell. This line in particular received a great amount of applause from the audience as Isbell publicly celebrated six years of sobriety on Feb. 6.
Musicianship was a central part of the performance as each artist showcased an elite level of skill for their respective instruments. Isbell made it a point to recognize and praise each member of the 400 Unit, as well as James McMurtry, for their musical talent multiple times throughout the show. This praise highlighted the work that each member put into the unit as a whole and further solidified the oneness of the group and their mastery of their art.
This high level of talent was on full display throughout as Chad Gamble held rhythm on the drums, Jimbo Hart plucked away on the bass guitar, Shires shone on the fiddle, Sadler Vaden and Isbell doubled-down on blistering guitar features and Derry deBorja impressed with his versatility, transitioning from the keyboard to sporting an accordion and even singing harmony on songs such as the band's playful 2011 hit "Codeine."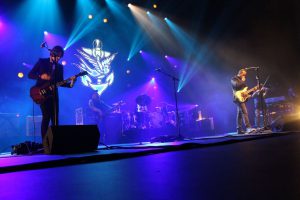 Other high-points of musicianship were displayed through a wide range of vocal skills from light-hearted songs like "Flagship" to the heavier sound of "Super 8", full band ballads such as the unit's cover of The Drive-by Truckers' hit "Decoration Day", and the various guitar styles displayed by Vaden and Isbell from the calm and controlled strumming on the heartbreak ballad "Speed Trap Town" to the blistering solos of "Flying Over Water" and the ground-shaking closer to their initial set "Children of Children."
Following the close of their initial set the band briefly went backstage before returning to perform a two-song encore that was comprised of an electrifying cover of Tom Petty's "Refugee" and their acoustically-chilling love song "If We Were Vampires" which won the Grammy for Best American Roots Song on Jan. 28.
With their two night stop in Atlanta Jason Isbell and the 400 Unit did much more than simply perform for near capacity crowds at one of the most respected venues in the South, they brought together fans from all over who came to hear their stories told through songs that made them feel something. They did not endorse a celebrity persona but instead made the audience feel like a part of the show. They made a large theater feel like an intimate room full of faithful fans, singing word for word and enjoying the moment in the company of familiar strangers. It goes without saying, Georgians will anxiously wait for this group of musical storytellers to make their way back into town.
Comments
comments