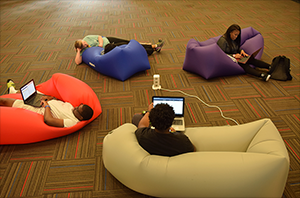 On Monday, April 24 from 11:00 a.m.to 3:00 p.m. the new Campus Center Ballroom lounge event will take place. Lounge chairs, charging ports, TV and music will be available at the event. This is a time for students to interact with friends, do homework or relax between classes and meetings.
"The idea was to provide students additional lounge space that wasn't outside since it can get warm on the patio and crowded in the atrium," said Manica Pierrette, Coordinator of Events. "After the Election Watch event in the ballroom in the fall, students shared that they enjoyed having a space to watch current issues/news but also relax."
The video wall will be converted to provide news and some cable channels. There will also be new lounge chairs for students to lay on to take a break in between classes. Bean bag chairs may be included as well.
"I hope students will enjoy having a little more privacy, A/C but also being able to watch television," said Pierrette. "I also thought it would be of interest to the students to use the space during the times where it wasn't booked for events but when the Campus Center typically saw a lot of students in the building."
The goal of this event is to attract all students, in addition to those who use to campus center for recreation or special event,.
"We want to continue to make this space the heart of our campus and inclusive for all. The Campus Center should be a safe space but welcoming," said Pierrette.
When Pierrette came up with the idea for a new ballroom lounge, the University Recreation staff fancied the concept and provided additional ideas and funding to make it happen. This event has been in the making since last fall.
"We would love to hear back from students what they would like to see in the ballroom lounge and what hours are best for them," concluded Pierrette. "We hope that no matter if you are looking for additional space to study, a place to pass time or meet new people in between classes that you feel comfortable stopping in."
Comments
comments