The Atlanta Hawks 2017-2018 season begins on Oct. 18 when they travel to Texas to face the Dallas Mavericks; the first of five consecutive games that will be played away from Atlanta to begin the season. After a disappointing 2016-17 campaign that ended in a 43-39 record, the entire landscape of the Atlanta Hawks changed during the summer. Key players that include the likes of Paul Millsap, Dwight Howard, and Tim Hardaway Jr. moved away from the team and a plethora of young players were inserted to try and keep the Hawks competitive. Whether or not that will be possible is yet to be seen.
In response to these changes, KL Chouinard, writer for Hawks.com, put it best. "In losing Paul Millsap, the Hawks lost their cornerstone. His exit creates a big vacuum of talent. On the other hand, the pieces on the current roster fit together like an IKEA furniture kit. Mike Budenholzer put together a revamped, 5-out offense that fits well with the shooting big men the team acquired in the offseason: Ersan Ilyasova, Mike Muscala and (surprise) Dewayne Dedmon."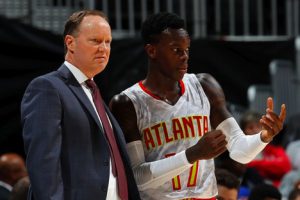 Above all else, this Atlanta Hawks team is spry with youth. While that can be seen as a major disadvantage in the NBA, this specific group of players are not only capable, but they also have a ton to prove.
The leader of the team is 24-year-old German point guard Dennis Schroder. He returns to action this season after averaging 17.9 points and 6.3 assists per game in the last one. This includes a magnificent performance in the NBA playoffs in which Schroder put up 24.7 points and 7.7 assists in a battle he and the Hawks ultimately lost to NBA superstar John Wall and the Washington Wizards.
While that alone is impressive, Schroder showed improvements in his game while competing with Germany in the overseas tournament known as EuroBasket during the summer. He ranked second overall amongst all players competing in scoring at 23.7 points per game. If nothing else, Schroder has shown that he is ready to shoulder the load as a leader and help guide these Hawks through the season.
The most important aspect of the Atlanta Hawks going into the season is head coach Mike Budenholzer. Budenholzer's defensive minded, ball-movement based coaching scheme helped the Hawks explode for 60 wins and a top record in the NBA's Eastern Conference during the 2014-2015 season. Since then, after numerous changes to the team, Budenholzer has had to work with players and pieces that simply did not fit. Now, he has young players committed to his scheme and pieces that can help create a successful and entertaining product.
"The same shooting ability pairs well with the athleticism of the young wings and point guards who will be asked to make offense in space," said Chouinard. "The athleticism of those guards meshes perfectly with (Mike) Budenholzer's desire to add a hyper tempo to his pace-and-space offense. Apart from all that nice synergy, high-flying rookie John Collins is going to be REALLY fun."
A general rule for young and inexperienced teams is that in order to be effective, they simply have to play together to learn how to do so. Newly hired general manager Travis Schlenk allowed all those players from last season's team to leave because he has a goal in mind. Shredding those contracts will allow a new team identity to be formed. Schlenk will build the Atlanta Hawks through youth to eventually add greater talent to eventually accomplish the only goal that matters in the NBA–winning a championship. While it will not happen this year, the blueprint has been set and these Hawks are ready to learn to fly.
Comments
comments