Ed Sheeran has announced another U.S. stadium tour coming in 2018. Sheeran will be playing arenas and stadiums across the country starting in August, including a stop at Atlanta's brand new Mercedes-Benz Stadium on Nov. 10.
Sheeran is currently finishing up another North American tour that started in June of this year, soon after the release of his newest album, "Divide". His tour has sold out multiple shows in Los Angeles, Pittsburgh, and even Madison Square Garden in New York. His last show in Atlanta was so popular that he had to add a second date.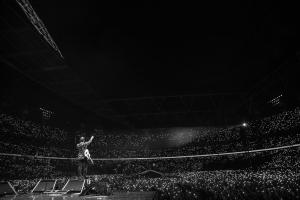 Sheeran's newest album has topped charts across the world since it was released. It broke records in the U.S. and the U.K., as well as dominating the Top 40 all around the world. Sheeran's album has reached far and wide, and it has blown up around the world.
This is not Sheeran's first brush with popularity however. His previous album, "Multiply", also topped the charts. Songs from all three of his albums have made it to the top and many of his songs have gone multi-platinum. The U.K. singer-songwriter definitely knows what he's doing when it comes to making hits.
Tickets for the tour are on presale now at www.edsheeran.com/NATour2018.
Comments
comments