Music has the power to inspire people. To give them hope and help them escape momentarily from all of their problems. Triple-threat fiddle champions, The Quebe Sisters, provided that momentary relief with their performance at the Townsend Center this past Tuesday.
The Quebe Sisters are an American fiddle Western swing group based in Dallas that includes sisters Hulda, Sophia and Grace Quebe (pronounced KWAY-bee). The band performs Western swing, vintage country, Western and traditional Texas-style fiddle tunes. Also, associated with the group is guitarist Joey McKenzie, a world-champion fiddler who has been the sisters' fiddle and vocal instructor since 1998.
Growing up in Burleson, Texas in Tarrant County the sisters learned to play traditional Texas-style fiddling during their early years. However it was not until 1998 before they started playing together. Hulda, Sophia, and Grace were ages 7, 10 and 12 respectively when they attended and won their first local fiddle competition in Denton, Texas.
"There wasn't a specific moment in time where we made a conscious decision to start a band," said Sofia. "Rather we started playing and writing music together, and naturally we started performing together. It was kind of an evolving process for us."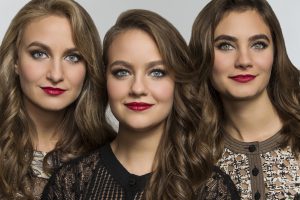 From then on the girls began entering competitions, earning both solo and group accolades by winning state and national championships in their respective age groups from 1999 – 2002. Soon after, they started to receive paying offers for their performances.
"One of the first paying gigs that we got was when we were hired to play a Cowboys game in Fort Worth," said Sofia. "We were really young at the time, and that was our first bigger performances, so we were very thrilled."
Starting out as a tribute band to unremembered musicians, they have now evolved into a young adult American band. Today, after more than a decade of traveling the U.S. and the world, and recording three acclaimed albums, the sisters are proving they are a force to be reckoned with.
During their set on Tuesday, the band performed crowd favorites from past tours, including "Every Which-A-Way" by Moon Mullican, and "Teardrops From My Eyes" by Billy Jack Wills. They also played songs from their previous album, "Every Which-A-Way", and an upcoming album which is still untitled.
"We wanted to make the set more Americana, with a lot of different genres that mix perfectly together, but still come out in our own harmonies, in our own way," said Sofia.
In addition to their extensive performance schedule in Texas, the band is also currently on a North American tour, with UWG being just one of their many stops. The tour is scheduled to end in December.
"We were really looking forward to performing in West Georgia, and we are very excited to be in Georgia again," said Sofia. "It was great to meet everyone that came out to the show we truly appreciate the support we received."
Comments
comments