Over the years there has been a spike in entrepreneurship on college campuses. Since then, students starting their own businesses while still in college is a common occurrence. This is the case for UWG senior Ji'brayah Marson-Young.
Marson-Young is a marketing student at the University of West Georgia, who prides herself on leadership and community development. She is working as a Human Resource Intern with Southwire, North America's leading manufacturer of wire and cable distribution, and is currently a Business Ambassador for the Richards College of Business.
"Throughout my years at UWG, I have held many leadership positions, including 2016-2017 VP of NAACP, 2015 Fundraising Chair for NCNW, and University Ambassador just to name a few," said Marson-Young. "Also, in 2014, I co-founded a non-profit organization, Ydennek Girls. Our purpose is to cultivate the leaders of tomorrow through STEM."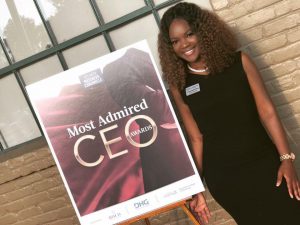 Marson-Young is the founder of Lust Hair Collection, a growing and successful custom lace wigs business. As someone who changes her style and hair frequently, wigs gave Marson-Young the option to show off her versatility, and she wanted to share that with the world.
"Lust Hair was created because so many people would inquire about my hair," said Marson-Young. "I decided that creating wigs would give them versatility as well as protection for their natural hair."
Like many entrepreneurs, Marson-Young decided to profit from her passions and turned her love for beauty, fashion, and hair into a business. So far she has sold approximately 20 wigs, and processing takes between 5 -15 days. She credits Ming Lee, the creator of Snob Life Hair and studios, as the inspiration behind her business.
"I loved her passion for beauty, but even more her creativity, marketing, and campaign sparked my fire to start my own business," said Marson-Young. "I started making wigs around 2014 in my dorm, and it just grew from there. I create u-parts, lace closure, and frontal wigs for ideal prices."
Currently operating as an online business, Lust Hair is developing, with a clientele list that began to grow in 2016 due to social media marketing and promotions. Clients are primarily UWG students, with a few based in Atlanta, and ages range from ages 16 to 50 years.
"I am currently finalizing my website and rebranding Lust Hair for 2018, and as I move closer to graduation my entrepreneurial spirit grows," said Marson-Young. "I am looking forward to working with celebrity clients as well as movie and television productions."
Marson-Young believes that Lust Hair Collection will be her first of many successful businesses to come. She plans to open a storefront by the year 2020.
"As an entrepreneur, I am always working on different projects, but Lust is my top priority," said Marson-Young. "I hope to expand my brand into a household name and expand the line of beauty products and services."
Comments
comments