Taste of Carrollton has come and gone leaving behind another year of fun filled memories. Taste of Carrollton (TOC) is a family filled environment that has brought Carrollton together for years. This event is held each year in September. This year, Taste of Carrollton was held Thursday, Sept. 12, from 5:30-8 p.m. in the square. This event allowed any and everyone to try a taste of Carrollton's restaurants for as little as a dollar apiece at each food stand.
2017 marked the 26th annual Taste of Carrollton Event. What makes this event such a success each year is the low cost, the opportunity for the community to try new and delicious foods, while also meeting local family friends.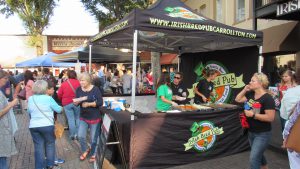 "Our community supports this event every year with a great turnout," said Aundi Lesley, manager of Carrollton Main Street. "It's a family-friendly atmosphere and fun for everyone. Taste of Carrollton brings two of our favorite things together: community and food. The attendance for TOC continues to grow each year, 2017 was no exception."
For restaurants involved, TOC means growing and expanding their customer base within the community. The exposure to new, and maybe even old recipes can become popular dishes throughout the community allowing people to become regulars at these restaurants.
Manager of Longhorn Steakhouse, Lauren Griner said,"To prepare for TOC, we bring out our best cooks and most of our managers to allow not only the Carrollton community to taste our food, but also to speak with all of us and ask any questions they may have about our business."
After this event has happened, there are awards given out to the winning restaurants. There are only three awards so for each restaurant that won something, this meant only outstanding feedback from the Carrollton community for these specific restaurants.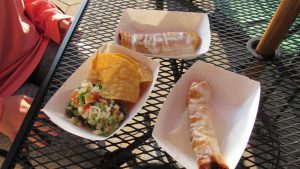 "Our participants had the opportunity to win Best Restaurant Around Town, Best Restaurant on the Square and Restaurant of the Year. These awards are very competitive – you can go into many restaurants around town today and see their plaques proudly displayed from TOC's of the past," said Lesley.
To determine the winners of these awards, the tickets are counted from each individual restaurant's stand and also the judge's opinion for each restaurant becomes crucial. The winners will be posted two weeks after TOC on Sept. 28 on the Carrollton Main Street official website, carrolltonmainstreet.com.
The city of Carrollton is full of incredible restaurants that so many locals have never tried or even heard about. At TOC, new restaurants have the ability each year to rise from the bottom and become Carrollton's favorite and most popular dinner or lunch spot.
Comments
comments