The Category 5 hurricane that destroyed islands in the Atlantic Ocean and majority of Florida, Hurricane Irma, also grazed UWG's campus, which led to the entire university closing for two days. Students, faculty members and citizens of Carrollton, in a Tropical Storm Warning, prepared for destruction as this record storm only affected some leaves and branches.
After a declared State of Emergency, residents of Florida and South Georgia panicked and evacuated north as the tropical system moved up its coast. The roads in and around Atlanta were bumper to bumper traffic and every grocery store around was completely cleared out of bottled water, milk and bread.
Irma was the most powerful storm ever recorded in the Atlantic, but it weakened as it moved north towards Georgia. Despite Irma's weakened state, it caused millions of Georgians to be without electricity for days.
UWG closed campus Sept. 11-12 for safety purposes as the West Georgia area was in a Tropical Storm Warning.
"It was big decision for Dr. Marerro to close the University since it has an impact to our strategic imperatives, academic and student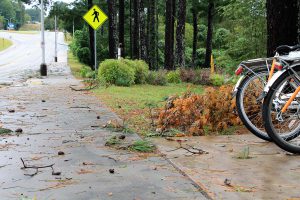 success. But it gave the University the opportunity to recover, and gave our traveling students the time to return to campus," said Risk Management Director, Matt Jordan. "During Irma, Risk Management was embedded with Facilities in identifying and mitigating occupational safety concerns (such as tree removal) and defining and strengthening communications within Facilities and between Facilities and Command."
The storms created rain and strong winds over UWG but luckily nothing too serious. Only a few large trees were knocked down by the storm around Carrollton. Unlike the tornado that hit the campus last spring which caused enormous damage, the Wolves' campus was fortunate to have only small debris to clean up.
"Before the storm hit, I informed my students that we may not meet and I moved everything to Course Den," said UWG professor Sonya Barnes. "I just did like most people and went to the store and got my bread and my milk, the usual things. I made sure my family was okay and well prepared. I was actually at home when the storm hit and that worried me because I live underneath a bunch of pine trees that were doing the tango during the storm but they stayed up there thankfully."
Students prepared for major damage from Hurricane Irma, only to relax with two full days off from school and assignments pushed to later dates. 'Irma parties' were popular when students realized the storms were not as strong as anticipated. Fortunate enough to not be affected like Florida, UWG and Carroll County resumed school on Wednesday.
"I find it funny that every time we get school closed for weather purposes nothing happens, but the time we get hit hard by a tornado last year I still had to go to class," said UWG senior Logan Carr.
Carrollton was spared from Irma's path but unfortunately unlike others who were greatly impacted by this intense hurricane season. The islands of the Atlantic, Florida and Georgia are recovering from Hurricane Irma. Other storms such as Hurricane Maria are currently devastating more in the Atlantic Ocean. We can only hope that this hurricane brigade is almost over but it seems that more storms keep surfacing.