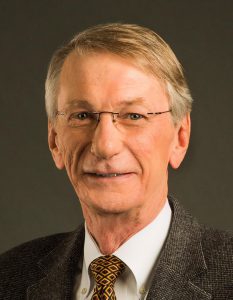 UWG graduate of 1973 and former editor-in-chief of The West Georgian, Bruce Hildebrand, is set to moderate the Media Day 2017 panel discussion. Hildebrand became editor-in-chief of The West Georgian in 1971 during a period of controversy and utilized his experience as the news editor of the Alpharetta Neighbor and the Roswell Neighbor newspapers to help fulfill his role.
The Media Day event panel moderated by Hildebrand will provide students the opportunity to hear what it is like to work in different facets of communications.  The panel will consist of one professional to reflect each of the Mass Communications Department's four concentrations, plus a fifth "wildcard" to discuss the convergence of journalism, public relations, digital media and telecommunications, film and video production.  
Hildebrand is likely to give students a few words of advice on the big day, as well. His wide range of experiences across multiple media platforms, including radio news, magazine editor, and political, corporate and governmental relations, will provide students looking for internships or those who are entering into job search with substantial career advice.
"Media Day will enable students to focus on internships or whatever they may be involved with by getting them to critically think about their area of expertise," said Hildebrand. "This day provides students with a place to learn what employers are looking for and to further explore their area of study."
While editor-in-chief of The West Georgian, Hildebrand was awarded the first Stanley Parkman Scholarship for journalism in honor of the founder and publisher of Carrollton's Times-Free Press.   The scholarship recognized his successful efforts to manage the quality of the paper, make it more sensitive to the issues of the campus and expand the range of editorial content.
With each edition of The West Georgian Hildebrand said he sought to better discern the real news and to motivate the staff to produce newsworthy content while meeting deadlines.
"Working at newspapers taught me how to meet deadlines," Hildebrand said. "I also learned organizational skills and how to work with others, including university administrators."
Hildebrand advises the current and future editor-in-chiefs to identity the capabilities of each one of their staff members. Each staff member possesses different skills, "One person may be good at headline writing or layout while another person may be a great copy editor," he said.  According to Hildebrand, "being able to identify the strengths and weaknesses of yourself and those you work with is crucial to running a college newspaper or any other organization."
The former editor continuously emphasized the most useful skill for a journalist to have; writing. While serving as a senior vice president at Hill and Knowlton International Public Relations for six years, Hildebrand required interviewees, even from the most prestigious universities, to complete an 8th grade grammar test.  He noted that an "amazing number" would fail the test and be dropped from the interview list.    
"If you are not a skilled writer, employers will not be able to use you," said Hildebrand. "Employers are looking to hire media professionals who can truly write – who know what the lead is and who know how to prioritize and synthesize information."
Hildebrand also stressed the importance of students finding their niche and working towards their goals in order to become successful journalists and communicators.
"Presenting yourself in the best way possible is vital," said Hildebrand. "You have to understand where you want to go, how you present yourself to the interviewer and what specific skill sets you need for the position you're interviewing for."
At the time of his retirement, Hildebrand was the Executive Director for Higher Education for the Association of American Publishers (AAP) – the national trade association of the U.S. publishing industry.  The firms he represented published 92 percent of the course materials used in America's post-secondary, law and medical schools.  
He is also a former print and radio journalist who was active in campaign politics from 1972 until 1985 and served in Washington under the administrations of three presidents. In addition, for 10 years Hildebrand served as the president and CEO of an international consulting and development firm operating in conflict and war zones.
Comments
comments