The UWG men's football team defeated Delta State by a score of 29-17 extending their perfect record to a mark of 10-0 on the season. It was a rare comeback victory for the Wolves against a team with one win on the season; but it was a win nonetheless.
"I'm really proud of the way the adjustments that our guys made in the second half and established dominance at the end of the game," said UWG head football coach David Dean.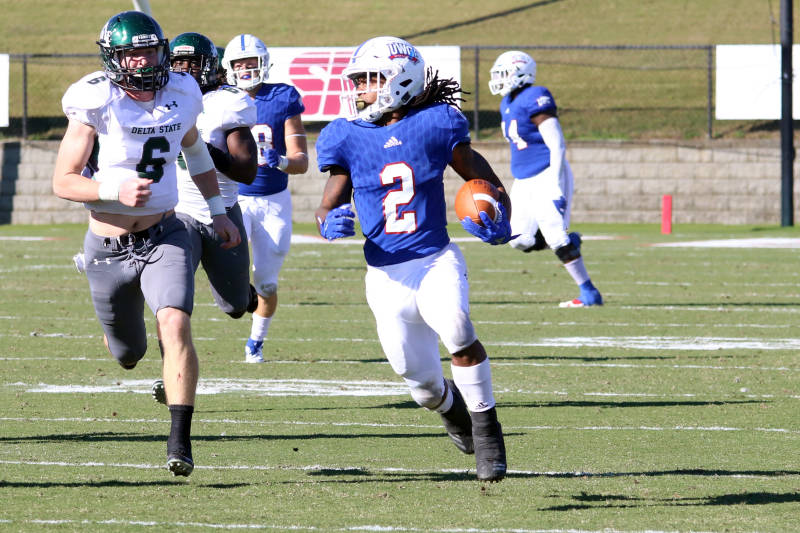 The Wolves trailed 7-3 after the first quarter and 17-9 before kicker Omar Cervantes made his second of his three field goals on the day resolving to a 17-12 halftime deficit for UWG. A primary staple of success for Dean's team this season has been consistent success with halftime adjustments. Those were executed to perfection last Saturday to the tone of a defensive shutout in the second half.
"I wish we'd just play better in the first half," said Dean with a laugh. "We coaches can't take the credit, it's these players. Our secondary played an outstanding football game and I think by the end of the game our pass rush won over."
With the absence of lead wide receiver Malik Henry, freshman LaPerion Perry stepped up in a massive way. He scored both of UWG's offensive touchdowns totalling six catches for 183 yards and two touchdowns along with an additional 117 yards on kick and punt returns.
"I give LP an enormous amount of credit. To move to a new position in one week's time and play the way that he played says a lot for him," said Dean. "The great thing about LP: He's a freshman."
Perry made sure to emphasize that regardless of the big numbers and accolades that there is only one thing on his mind.
"It feels good, but I also wanted to just win," said Perry. "I really just wanted to focus on getting the win. Going 10-0, I've never done that and now it feels great. I wanna win rings and that's all I'm hoping for."
The game was sealed with just over two minutes left when UWG safety Raekwon Chatman intercepted a pass and took it 49 yards for the touchdown. It erupted the crowd as Delta State could have won the game with a touchdown on that drive, and was a credit to coach Dean's exceptional mind.
"Coach told me to read the tight end because he was likely gonna run a seam," said Chatman. "I went through my reads, outside got released, worked my eyes back inside. He threw a seam route and I was there to pick it off."
In what was potentially his final home game at University Stadium running back Devontae Jackson totalled 114 rushing yards on 18 carries. Junior quarterback Willie Candler was nearly flawless as well completing 21-of-24 passes for 307 yards and two touchdowns.
"Whenever you have a quarterback who is throwing very well against man coverage it means he's doing what you're asking him to do and playing very well; that's what he did today," said Dean. "We just gotta do a better job of protecting him. Too many sacks and too many lost yards today. But he kept his poise and made the big throws when we needed them"
The Gulf South Conference Champions will be decided on Saturday as the Wolves travel to Valdosta State in a matchup of undefeated teams.
Comments
comments