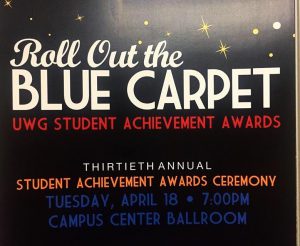 The University of West Georgia rolled out the blue carpet for a special event honoring students' accomplishments and academic success through specific departments. The 30th annual Student Achievement Awards Ceremony took place on Tuesday, April 18 at 7:00 p.m. in the Campus Center Ballroom. The ceremony consisted of various entertainment from a photo booth to a reception to follow and a live band to entertain the attendees.
"Because of the addition of shade structure on the patio outside of the Campus Center has allowed us to move the reception outside," said Chris Geiger, Director of Center for Student Involvement. "We also provide a photo booth, photographers, and music from a faculty band."
The Student Achievement Awards committee worked extremely hard in planning to ensure a successful event. The committee members consisted of a variety of individuals through three different departments such as: Center for Student Involvement, University Recreation and Housing and Residence Life. Each member of the three departments played a huge role in making the event happen.
"It is truly a collaborative and team effort, with each of the departments providing staff and funding to implement the program," said Geiger. "This is the 30th year, but only the 3rd year in the current format. Three years ago, University Recreation, Housing and Residence Life and the Center for Student Involvement combined their individual awards programs to make a larger audience."
Many awards were given throughout the ceremony and were presented by respective faculty. While many of the awards were extremely honorable, one portion of the ceremony was able to gain the audience's attention by blaring DNCE's "Cake by the Ocean" to not only get the energize the atmosphere, but create a Public Service Announcement (PSA) for the spring concert. The PSA was given and the traditional unmasking of the graduating ZinG! seniors took place. ZinG! is an organization that has had student representatives with exceptional leadership skills and high profile involvement throughout campus activities. Members of ZinG! can be selected through a secret panel or former and current members and advisors.
"This year ZinG! celebrates their seventh year," said Karen Lingrell, Associate Director for Collaborative Programs. "We bring animation, silly spirit, we dress up, we scare people, but that is not the attention. The representatives acknowledged have been volunteers for various things since they were underclassmen. My fellow ZinGers, it is my pleasure to thank you for your continued spirit and your discretions and all of the work that you have done to represent ZinG!"
The ceremony concluded with Dr. Xaiver Whitaker, the Associate Vice President for Student Life and Dean of Students, expressing how proud he was of the students' accomplishments and achievements. He then played a video entitled, The Wolf Experience, to show the students some of the work that is being put into place for next year. The video included a wide range of images of UWG student life and the various clubs and activities that UWG offers.