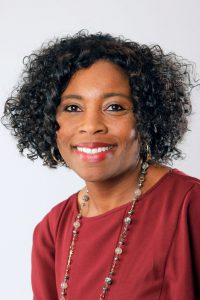 Tracy Brown, a University of Georgia alumna and Deputy Managing Editor at the Atlanta Journal Constitution (AJC) will be attending UWG's Media Day on Mar. 7 as a panelist to discuss her career in journalism and exactly what it took to receive the success she has today.
Brown credits her many triumphs through the variety of jobs and roles she took on throughout her career. While attending UGA, Brown majored in Journalism, but concentrated in Advertisement, which led her to first job. Each position she took after working for an advertising agency spiraled into new opportunities within the journalism industry.
"When I graduated I really did not have my mind set on being a newspaper person, but it just kind of worked out that way," said Brown. "I worked for an ad agency for about six months after graduation and then enrolled in a journalism program at the University of South Carolina during the summer for a 10-week program."
When the workshop program was over, Brown was offered a job at the state newspaper in Columbia, South Carolina as a General Assignment Reporter. After Brown took the position, she was asked to help out as a Copy Editor because she did well in the editing portion of her test.
"I said yes because I was pretty much straight out of college so I thought why not," said Brown. "Every week it seemed like they would ask me to stay two weeks longer and than I had been doing that for two years."
Brown still wanted reporting experience, so she went back to being a general assignment reporter for another year and then took a job at the St. Pete Times.
"I had great aspirations for the St. Pete Times because they were a newspaper doing a lot of creative things with writing and investigative work," said Brown. "There I did copy editing and design."
Brown worked at the St. Pete Times for about three years and was then recruited by The Dallas Morning News to become one of their assistant news editors. Brown's career developed into many different roles during her time at The Dallas Morning News, including her position with the AJC.
"I was promoted to oversee the suburban newspaper operations and oversaw that section for about three to four years but then decided I wanted to get into features, so I became the Entertainment Editor at The Dallas Morning News," said Brown. "I did that for a couple of years and then became the Arts Editor, which is when I was recruited by Atlanta to come down and be their Entertainment Editor."
Brown has recently celebrated her 10th anniversary with the AJC after joining the company in 2007. Within those 10 years, she has advanced tremendously through every position she has held.
"I was the entertainment editor when I first got here and then shortly after that I became the Features Editor, and then the Education Editor, and later the digital editor where I was over features, entertainment and lifestyle," said Brown.
The moment her entire career changed is when Brown was offered a job at the AJC that she never thought possible. It opened a whole new door for her and her future with the company.
"I got offered a job I never even considered and that was becoming the Page One Editor," said Brown. "That was probably to me, the most intimidating job of my career because you are making the decisions about what goes on the front of the paper every day."
Brown battled with herself as to why she might not be fit for the job, but the senior managing editor assured her that this was the job for her.
"We were having these daily critiques and I am pretty vocal in these critiques so I remember the Senior Managing Editor, when I said I don't know if this is the right job for me saying 'well in the morning meetings you always have something to say about what is put on the front page so now you get to decide'," said Brown.
Brown's hard work as the Page One Editor paid off two and a half years later and was offered the job she currently has now, Deputy Managing Editor.
"The cool thing about this was had I not took that risk and come out of my comfort zone by taking the page one editor job, I don't know that I would have been successful in this job I am in now or would have even been considered for it," said Brown.
Brown is a strong advocate for the importance of veteran journalists serving as mentors to young journalists. Her true passion lies within helping young journalists succeed throughout their careers.
"I always try to take advantage and embrace opportunities to give advice and share the story of where the industry is with young journalists as often as I can," said Brown. "I get excited when there are young people that are still interested in journalism despite all of the topics about fake news and that sort of thing."
At the end of it all, Brown holds onto her drive for sharing news and truth with readers. She values journalism and all that it stands for.
"The thing that makes it all worth it to me is impact," said Brown. "It's being able to give people information that they can use in their daily lives and to give them the truth. I am honored to still be a part of an industry that tells the truth. Despite all of the changes in the industry, that one has never changed and will never change."