UWG's homecoming week looked a bit different than usual due to the current pandemic.
Wolves spirit day and the football game celebrations were held both in-person and virtually.
Generally homecoming consists of a football game against another school, homecoming court, band performances and free food. However this year for spirit day, students were invited to the university stadium to watch the UWG football team split in half and play a scrimmage against one another.
The director of student engagement and leadership, Dr. Lakiesa Rawlinson, worked with various campus departments to curate the spirit day event. The first 500 students that attended the game wearing red attire were given free meals provided by Dine West. Non-students could also eat at the dining stations for $8 per person. Before the game, winners of the banner competition, door competition and greekdom virtual stroll off competitions were announced. During the game, university recreation held on-field activities and gave out prizes.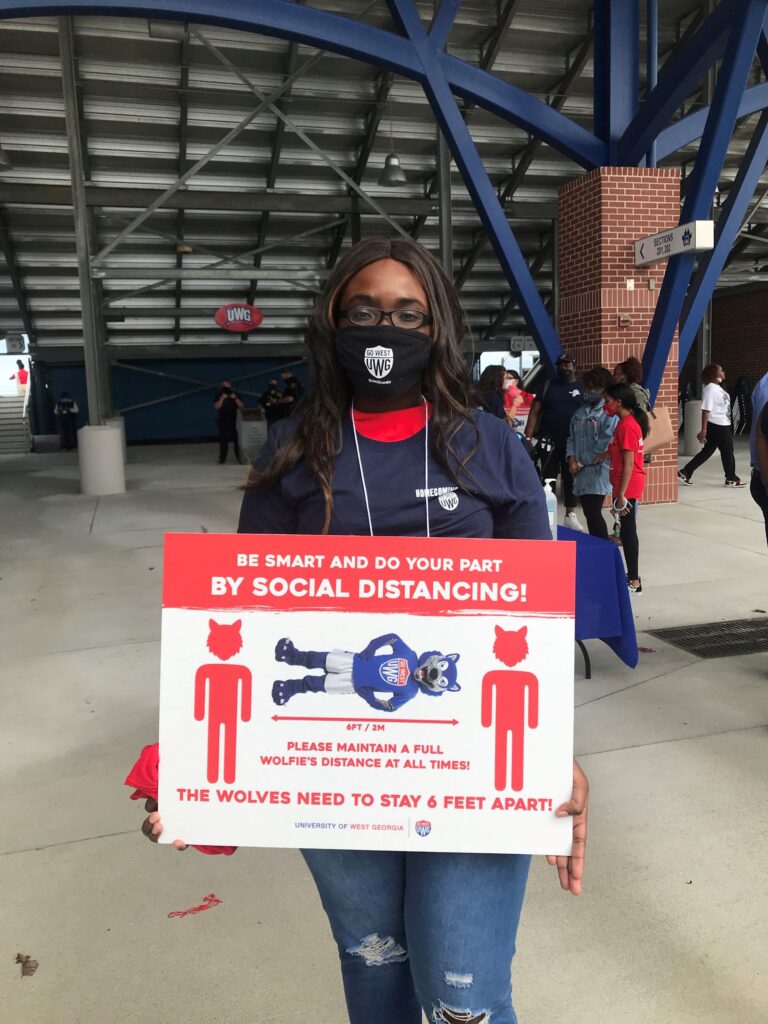 "We had many moving parts from all over campus that helped the spirit day event come together," said Rawlinson.
Those coordinating the event were concerned about safety for the in-person celebrations, so certain protocols were put into place. Social distancing guidelines were enforced and students were strongly encouraged to wear masks.
A limit of 2,000 participants was also put in place during spirit day. While most individuals enjoy tailgating before the game, it was not permitted this year. Overall, Rawlinson felt that the guidelines were followed and participants stayed safe.
"We over planned to identify all of the safeguards to put in place to create a fun and safe environment," said Rawlinson. "I think the communication before and during the event helped us create a safe environment."
Spirit day and the fall football game event was executed smoothly on the virtual side as well. The event was live streamed on Facebook for those who did not want to attend in person. Rawlinson said that the event's virtual engagement was high and that streaming it allowed the event to spread to people outside of UWG.
While the pandemic isn't ending any time soon, hybrid events will likely continue to be the new normal. Therefore, offering virtual options for events will continue to allow students to stay engaged.
"It was important for us to provide multiple platforms to allow people to participate in the way they felt most comfortable," said Rawlinson.
Besides the spirit day event and fall football game, other homecoming events were held virtually as part of UWG's "Homecoming at Home." The greekdom stroll-off took place on Tuesday, Oct. 27, and the bookstore hosted a throwback apparel fashion show on Wednesday, Oct. 28 via Facebook Live. Some more socially distanced in-person events included build-a-wolfie, where students created stuffed wolves, and the street sign event where students created street signs with the UWG logo on them.
Comments
comments