Nerd-rock super group Weezer released their newest album, "Pacific Daydream", on Oct. 27 after over a year of anticipation from eager fans.
Over the last two decades the Los Angeles based band has gained large amounts of recognition and obtained a very diverse and massive fanbase. Their unique sound, guided by the creative genius of frontman Rivers Cuomo, is consistently bridging the gaps between various genres such as punk, alternative, rock and pop from song to song. "Pacific Daydream", the band's eleventh studio album, is no different as it leaps from genre to genre from beginning to end.
The 10-track "Pacific Daydream" clocks in at just over 34 minutes and is best described as a power pop album seasoned with manic enthusiasm, power chords, screeching guitar riffs, west coast groove and vibrant vocals that range from light pop to angst-filled punk. The album is also one of the most natural that the band has ever released. Cuomo has admitted that they were trying to put together a much darker album, known as the "Black Album", but ultimately put that project on hold after most of the new material fit the pop beach format of "Pacific Daydream".
The album opens with "Mexican Fender" as a series of solo power chords break through silence before Cuomo's sharp voice cuts in with lyrics about a summer love experience in Santa Monica. The pop-rock intro grows with each verse before hitting a frantic high point in the bridge before the final chorus as "she loves me, she loves me, she loves me not" repeats before segueing into the next track.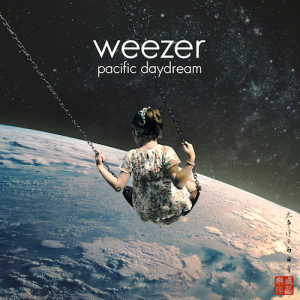 The second and most unique track on the album, "Beach Boys", opens with a bass line inspired by the west coast beach pop style of the legendary band from which the song gets it's title. As the surf groove sets in, Cuomo precedes the chorus by mentioning his adoration of the Beach Boys as he sings, "let me tell you 'bout a band I loved when I was a west side kid". The song then draws upon the inspiration that the Beach Boys have given them as the lyrics allude to their music bringing tears to their eyes, bringing back fond memories and desiring to celebrate their iconic sound.
The album's pop sound is easily noticeable on many tracks from the calm melody of "Sweet Mary" to the energetic chorus of the lead single "Feels Like Summer", but this sound truly shines in tracks like the intoxicating "Happy Hour" and the lovesick "Weekend Woman". "Happy Hour", the final single released before the album's official drop, opens with a thick and boozed-up groove filled with synth and bass and speaks about a desire to be away from work and enjoying the more fun things in life like good company and a nice drink.
"Weekend Woman", which was released as a single only two weeks before "Happy Hour", follows a very simple melody and, like many major pop songs, is based on lyrics that tell the story of falling in love with an unforgettable stranger and dreaming of being together once again. While these types of songs are fairly new ground for Weezer it is a sound that has been welcomed by many fans.
There are many tracks on "Pacific Daydream" that are reminiscent of the original Weezer sound from older singles such as "Island in the Sun" and others that led to their initial success. The track that most resembles the original angsty Weezer is "QB Blitz", a song that begins with a stripped down acoustic guitar and the rhyming lyrics "all my conversations die a painful death you see, I can't get anyone to do algebra with me".
The song goes on to mention the difficulty of making real friends before introducing a crawling bass line into the unenthusiastic chorus. The song continues to build toward a loud and busy bridge only to return to the original chorus to wind back down to the solo acoustic guitar.
"Pacific Daydream" seems to be the most mainstream friendly album that Weezer has produced in their 23 year existence and despite harsh critical reviews the band is satisfied with their work and excited to share it with fans all over the world. The album can be found in most major retail stores and on most online streaming services.