The UWG Leadership Development Institute kicked off the semester with a retreat that actively trained campus leaders to become vital parts in growing this University. With retreats held every 90 days, the University of West Georgia's president, Dr. Kyle Marrero, leads the campus' top chairmen and directors to advance their knowledge and collaborate on skills that will make this University the best in the nation.
As part of the Uni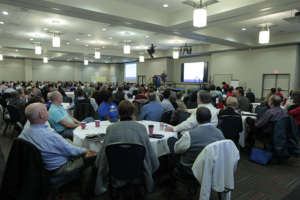 versity's Engage West! initiative, an online medium for students and faculty to find information on what is happening at and around UWG, the Leadership Development Institute began their first retreat of the 2017-2018 school year on Friday, Aug. 18 with the theme "Defining and Telling Our Story: The Legacy Year!" The meeting focused on strategic planning, creating a culture of high-performance, and defining success using everyday actions. The goals of this meeting included developing individual and institutional legacy and building individual legacy statements to guide each member's principles and values. This all-day retreat brought over 100 UWG professors and department-heads to UWG's Campus Center Ballroom.
"Now in the fourth year of 'Engage West! The Legacy Year', sustainability and continued progress toward our stated goals will be reflected in our behaviors and thus hardwired and fully adopted into our processes, expectations of excellence, and accountability," said Dr. Kyle Marrero, UWG President. "To achieve these goals we must define what our legacy will be, effectively communicate our story, and develop and live our individual legacy statement."
With four retreats throughout the school year, each one holds a different purpose with unique objectives and goals. These retreats are viewed as training for this school's top professors and for Dr. Marrero to lead his leaders. The first retreat of this school year began with a speech by Dr. Marrero, "Defining the Legacy Year", followed by a workshop on communication titled "Telling Our Story." The day continued with other segments that engaged the attendees in the legacy theme. This strong leadership team has sought to use their skills to effect the student body and other faculty members to make this school the best place to work, learn and succeed.
LDI is an effective way to teach leaders at UWG the skills they need to engage and inspire students and to grow both personally and professionally. The LDI retreats are structured to increase the confidence in UWG's professors and connect our campus leaders for further success. It is very important for this school to have a team of leaders that are all on the same page about how they want to affect this campus. This team of leaders is in the process of advancing their knowledge and skills to become individual leaders of accountability, success and sustainability. This institute was founded on growth and success to ultimately affect each student on this campus.
Comments
comments