Carroll County Soup Kitchen volunteers have spent the last several days awaiting and preparing for their next event for the community. During the full last week of every month, the Carroll County Soup Kitchen opens its doors with the help of willing volunteers, donations from individuals and the support of surrounding Carroll County businesses. For the volunteers, the last week of every month is known as Soup Kitchen Week.
Soup kitchens provide hot meals for many people who might only have one meal throughout the day. Soup kitchens give people who might have to make a choice between paying rent and buying groceries a helping hand. People come to volunteer at soup kitchens as a part of a fraternity or sorority, a part of a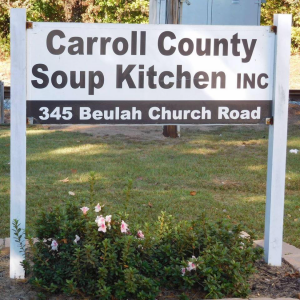 church group or even a part of mandated community service. Volunteers show up wanting to make a difference in their community. Even local businesses play a role in the mission to help keep the flow at the Carroll County Soup Kitchen going with their donations and fundraising.
Although the managers and owners of surrounding businesses might not show up in a hairnet to pass out food, the businesses themselves do much by donating. "Carroll County, we are blessed," said Val Morris, a kitchen manager at the Carroll County Soup Kitchen.
Publix, Kroger, Pilgrim's Pride, Empty Bowl's Ministry and churches from all around the county are among some of the soup kitchen's supporters. These businesses donate food from their own stores whether it is meat, bread or canned items etc. The generosity of the community surpasses food. An example of this includes a monetary donation that allowed the organization to buy the vans they are currently driving. When the organization was looking for this new transportation, they received a 'buy two, get one free' deal. These vans play an essential part in the soup kitchen's mission. Since everyone cannot make it to the kitchen, the vans are used to make deliveries every day during Soup Kitchen Week which benefits more families at the end of the day.
"Soup Kitchen Week is totally different from what we do on Mondays and Thursdays," said Morris. "We don't give out the sandwiches or do the home deliveries. We only serve home-cooked food and play bingo during those days," Morris continued. "Now at the end of each day during the last week, we package the remaining food and give it to either the men's shelter or the women's shelter."
Volunteers aren't limited to only one task when they arrive, some drive the vans while others cook the food. Other volunteers package the peanut butter and jelly sandwiches while someone else arranges for bingo. There were over 200 volunteers last month and each played equally important roles.
"I was so impressed with all of the different ministries," said Morris. "I knew that I wanted to be here."
Comments
comments