With Mercedez-Benz stadium getting ready to host regular season sporting events for the Falcons and Atlanta United FC, season ticket holders of both clubs were given exclusive access to take a tour of the stadium before any games were played. The open house, the first event at the venue that was open to the public, allowed fans to experience their seats, the 50 foot high halo video board, the food (and beer) assortment and to simply get a feel for the The Benz without the hustle and bustle of game day.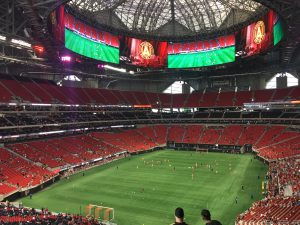 Fans streamed into the stadium with a look of awe in their eyes as they gazed upon $1.5 Billion worth or steel and glass architecture. The concourses are lined with bars, restaurants, video game consoles and even lounge recliners and parlor games like shuffleboard. Seats in the stadium are two inches wider than the Georgia Dome and fans have more space at their feet so they are more comfortable watching the game. There literally hasn't been a single aspect of the fan experience that was overlooked.
But, what about the game itself? Is the stadium too nice to where it will distract fans from the game and take away from their would-be home field advantage?
The Falcons old home, The Georgia Dome, was a large shell of a building that lacked many modern amenities that most stadiums have today except for one thing; that stadium was loud. The Falcons rarely lost a game at home due to the tremendous 'dome field advantage' Falcons fans provided. At the dome, there were no fancy bars, restaurants or video games to play, there was no fancy window looking into the city or massive video board. There was the game, and the game only, and that's what the fans focused on.
Atlanta's expansion soccer franchise, Atlanta United FC, has played its first nine home games at Georgia Tech's Bobby Dodd Stadium before taking their digs and The Benz on Sept. 10. Although a much older stadium than the dome, the same situation was present; fans only had the game to focus on, and cheered United to have the best home record in MLS for the first half of the season.
The fans of Atlanta have every right to want to take in the amenities of the new stadium, but make sure it is not at the expense of the home field advantage. Enjoy all of the more than 1,200 beer taps and eat at every restaurant in the stadium. They deserve to stare in awe at the massive Television screen. However, Atlanta fans need to recognize that the team comes first. When the opening whistle blows, fans need to be in their seats early and stay late for their team and not be distracted by any other amenities in the stadium. Then and only then, will the rest of the country recognize Atlanta as a good sports town.
Comments
comments