Girl power is making its way to campus as two collegiate women are bringing a brand new chapter to UWG. Her Campus is the number one media brand for women across the world with over 10,000 contributors. Itunu Aromolaran and Farrah Vetrano are following in the footsteps of the world's top college journalists by giving collegiate women of UWG the opportunity to express themselves through writing on topics that interest them most.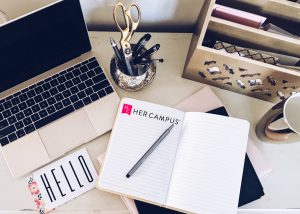 Itunu Aromolaran has known about Her Campus for years, but was recently inspired once she found out that she could start her very own chapter at UWG and begin the journey. Aromolaran's passion lies within the fashion and lifestyle industry, as she plans to pursue fashion journalism in her future career. Because UWG does not have a fashion program, Aromolaran's goal through Her Campus is to bring fashion and lifestyle to UWG in a different way.
"I've been blogging since I was in high school, so I found out about Her Campus through various bloggers," said Aromolaran. "I wanted to start at chapter at West Georgia so other girls, who also want to go into the fashion and lifestyle field, can get experience to put on their resume."
To continue the step by step process, Aromolaran reached out to Farrah Vetrano to help her begin the process of starting a Her Campus chapter at UWG. As a Public Relations concentration and a proud supporter of empowered women in the media industry, Vetrano was immediately intrigued.
"Being an empowered woman and GIRLBOSS in the media industry means supporting and engaging in your passions, lifting each other up and actively expressing our similarities and differences," said Vetrano. "I am super excited to begin this journey with Itunu and start a council that will be able to take on our roles once we graduate. I am confident that this is going to be a success at UWG."
After writing samples were sent in to Her Campus headquarters to determine if UWG could withhold a chapter, Aromolaran and Vetrano then had to receive 100 signatures in one week. With support of several UWG students, they were able to meet their goal and begin the launch of Her Campus. The two plan on using social media as their main marketing tool and attend on-campus leadership seminars to gain more knowledge on how to lead a successful club.
"Once we receive the official launch date, we plan to create our social media accounts where we will start advertising for the club," said Vetrano. "Her Campus is in the process of creating a website for us and will be sending us promotional tools to get started. In the meantime, Itunu and I will be attending leadership tracks and student organization fairs to learn more about successfully leading a campus club."
In the spring of 2018, Vetrano and Aromolaran will graduate from UWG and Her Campus will be passed onto another group of collegiate women who will take on the responsibility of leading successful journalists through writing and standing by what Aromolaran believes defines an empowered woman.
"I think that being an empowered woman in the media industry is way more than being a GIRLBOSS and running your life/calling the shots," said Aromolaran. "I think it has more to do with how you treat other women in the industry and in general. It means instead of trying to compete with them, we should encourage them, collaborate with them, be inspired by them, and let them motivate us to be the best version of ourselves."
Although Her Campus is only in the beginning stages at UWG, Aromolaran and Vetrano are passionate and excited for what is to come through this significant media outlet for collegiate women. They stand by their love for empowered women in the media industry and are striving to apply that love to women at UWG through Her Campus.
"The media industry allows us as women to open up on the topics we love while uplifting each other through blogging, social media, stories and trials," said Vetrano. "Her Campus is going to serve as that outlet on UWG's campus for all collegiate women. Whether you will be a reader, writer or supporter, you will be a part of our mission to do what we love, write what we love, and support all of the girl bosses on West Georgia's campus."
Comments
comments