The overall mission of Pack the House is to try and bring as many people into the Christian organization as possible. Typically, Pack the House has a great turn out each year ranging from a few hundred to a couple thousand students and faculty at UWG. "The end result of those who stick with Campus Outreach and continue to come to the meetings on Tuesday nights are about a hundred to two hundred people," said Amber Bell, Campus Outreach leader. "Sometimes we will start off th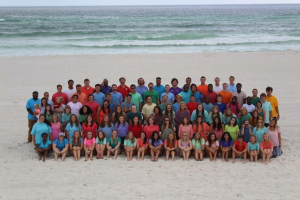 e meeting with a game that helps everyone kind of get to know one another. We have students give their testimonies and a speaker who provides a message typically relaying back to college itself."
Summer Beach Project is one of many events organized by the Campus Outreach staff. During the nine week discipleship program, several events take place. Each day the students are provided a time and place to attend meetings and bible study classes to learn how to share their faith in God.
"The overall mission of Campus Outreach is that these students are there for a reason, to serve a purpose by spreading the word of God," said Bell. "Our project, which includes Berry College and the University of West Georgia, has managed to gather about 85 students to attend the summer beach project each year. We go to Panama City Beach for nine weeks and live in really close quarters. It's kind of like living on a college campus."
This Christian organization has grown rapidly throughout the years on the West Georgia campus and continues to welcome Christians of all denominations.
Comments
comments