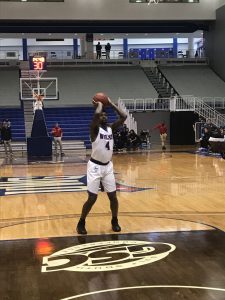 The University of West Georgia men's basketball team had their season ended by the Valdosta State Blazers on Tuesday, Feb. 27. The team played in the Gulf South Conference Tournament due to NCAA violations against the University of West Alabama for having an ineligible player, but suffered defeat in the first round against Valdosta State by a score of 106-90.
Paul Turner led the team with 22 points on 9-of-15 shooting from the field and Marquille Smith added 19 points on 7-of-15 shooting in what would be the final game of their junior campaigns. However, no other Wolves player scored more than nine points, and hot shooting from Valdosta State from the very beginning propelled the Blazers to a double-digit lead early.
The Wolves finish the season with an even record of 14-14. The team was solid when playing at the Coliseum, finishing with an 8-5 record at home. Their season struggles came primarily on the road, where they finished just 4-9.
An up-and-down season was filled with continuous periods of adjustment and development. Paul Turner, the team's second leading scorer at 19.2 points per game, had to sit out the entire fall semester after transferring from the College of Central Florida.
"This is just a team where I don't have enough timeouts," said Michael Cooney, UWG men's basketball head coach. "Next year it won't be like that but this year every situation has to be coached and that's difficult."
The positive thing for the West Georgia basketball team is that this year's team had no seniors on it, meaning that most if not every player should be returning for next season. That includes starters Turner, Marquille Smith, the team's leading scorer at 23.1 points per game, William Sides, who averaged 15 points per game, Aren Ulmer and Karlos Odom. All five will be seniors next year, which should give the Wolves a team rich with talent and experience for the 2018-2019 season.
"Down the road these situational things will be second nature to these guys, this year it wasn't," said Cooney.
The team will also likely be returning several key bench players for next season. Those names include Greg James, Ovie Magbegor, Steven Ross, and Glenn Robinson. All of who were freshmen this year and will play larger roles next season.
"These guys are gonna compete, but they have got to get better at the inner game, there is a floor game and then there is the inner game," said Cooney. "Keeping yourself composed and handling the bad calls, handling the pushing and shoving, we have to mature as a team with that kind of stuff. But it is a lot easier to do when you are winning games instead of losing them."
Comments
comments