President Biden recently announced all adults will be eligible for COVID-19 vaccinations at the beginning of May. This silver lining comes on the one-year anniversary of the coronavirus being named a global pandemic.
What might this announcement mean for residents of West Georgia? If the President can deliver on his promise, vaccines will be more accessible to local medical facilities, and all who are willing to take the vaccine could be vaccinated by summer.
Since last January, statistics from the Center for Disease Control and Prevention (CDC) show nationwide that nearly 30 billion confirmed cases of the virus have been reported and approximately 540,000 of those cases resulted in the death of the carrier. With the state of Georgia accounting for almost 2% of the total deaths, healthcare professionals are eager to get more people vaccinated.
"They're ramping up the delivery sites to the point that if the vaccine is indeed made available by then, I think we can get everyone vaccinated who wants to be by summer," said Medical Director of Health Services for UWG, Dr. Eric Heine. "But there's still a lot of vaccination hesitancy in the country, so it's really hard to predict how that will affect us reaching herd immunity status.
"They still have to wait and see if the variants make a difference or not, but I think especially for West Georgia that ability to return to 'normal' lifestyle on campus is going to be dependent on getting enough people vaccinated," continued Heine.
UWG has expectations to return to full operations in the fall as vaccines become more readily available to students, faculty and staff on campus. This past Tuesday, Governor Brian Kemp announced all adults aged 16 and older are eligible for the shot in Georgia on March 25.
"We understand that masks and distancing interfere with the normal college experience," said Heine. "We understand people desire to socialize and interact in pre-pandemic ways, but I think the campus administration has been very responsive and has tried to make campus life as normal as possible while protecting those at risk.
"I'm very hopeful," continued Heine. "I know this has been a very difficult year for many people, not only from the restrictions themselves but what those restrictions did to the economy and people's jobs. I really do believe we will see this virus die down quickly especially as people get vaccinated. That's what I'm strongly encouraging."
As UWG begins scheduling its first round of vaccinations after being approved as a point of distribution by the Georgia Department of Public Health (DPH) and receiving its initial allocation, other local health organizations are well underway administering vaccines to eligible candidates including the Tanner Health System.
"It's starting to build in terms of deliveries of the vaccine," said a Communications Lead for Tanner Health System, Debbie Bolding. "We've been waiting for the vaccine. We have many people who are interested in getting their vaccine shot. They recognize how important it is in fighting COVID-19, but the vaccines have been in such tight supply across the country, so they have not come in as quickly as we would have liked."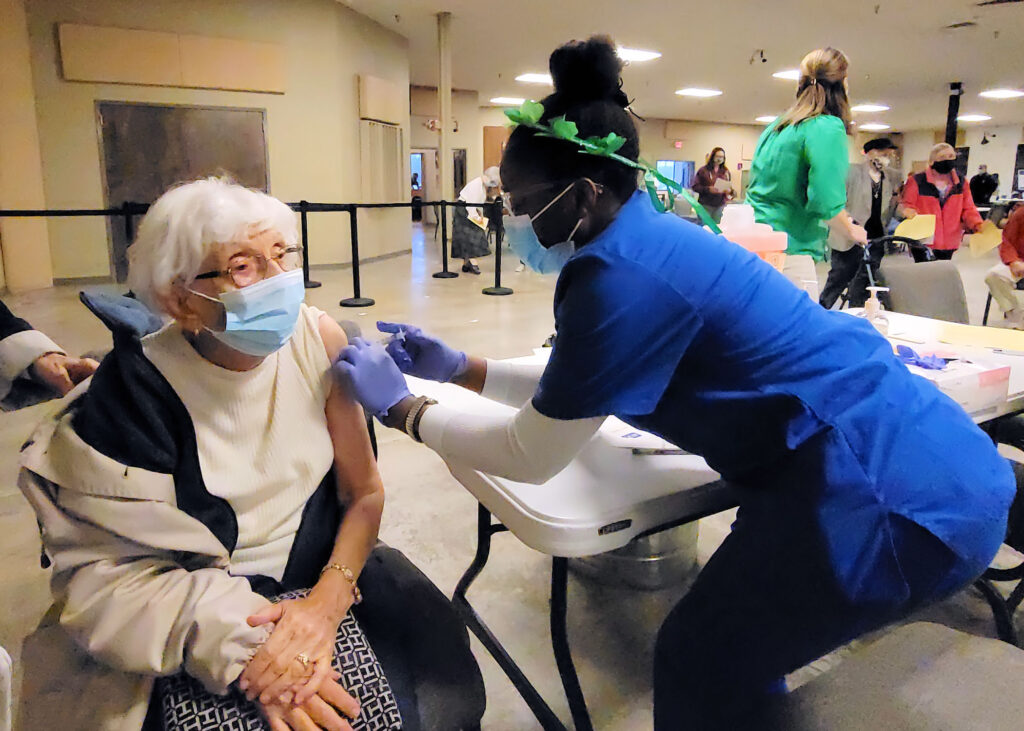 As of mid-March, Tanner has administered more than 14,000 vaccinations at its scheduled clinics. The medical center began offering vaccinations internally to its employees, staff and volunteers in December, and has now started scheduling appointments for the general public that meet the DPH vaccine eligibility requirements.
The process of receiving the coronavirus vaccine is similar to that of other vaccines. Candidates are asked a series of questions relating to their medical history and allergies, and if approved, they are given their vaccine. Depending on which vaccine was administered, they are scheduled for their second dose.
"Whenever we see that we have vaccines, we try to make them available as quickly as possible," said Bolding. "Our goal is to ultimately provide it to everyone in our community who wants one as quickly as possible, but vaccine availability is the determining factor.
"We're seeing changes in the numbers," continued Bolding. "We're very hopeful about the impact of the vaccines in continuing bringing down the number of positive cases. We want our community to be safe and healthy and get it back to how we remember it. We're very gratified to be a part of the process and making it a safer, healthier place by being able to deliver these vaccines."
Comments
comments