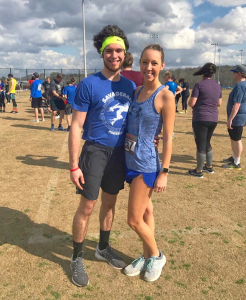 On Feb. 17, the Graduate Assistants of the University of West Georgia held the Inaugural Mardi Gras 5K at UWG's Athletic Complex. The project manager of this event, Sarah McDaniel, wanted to use this event as a way to promote personal wellness in a fun and exciting fashion.
When participants arrived to the event they registered, and received their goodie bags. The goodie bags contained their Mardi Gras t-shirts, beads, masks, stickers, a raffle ticket and other promotional objects. There was a variety of power foods available to the runners throughout the event such as fruit, granola bars and an abundance of water. Runners gathered energy through this fuel and began their trek with the other runners at 3:30 p.m.
UWG student, Anna-Maria Palma and her boyfriend Hank Barnes attended the event because they have recently been running together. They decided to attend the event after Palma discovered the ad online. The track was difficult for the couple, but they finished the race in just under twenty-nine minutes. Palma placed third in her female age group. Palma received a certificate for third place, and bragging rights over Barnes for the future.
"I could have won that whole race, I just stayed with her to be a good sport," said Barnes.
The couple waited patiently after the race for the raffle ticket drawing that the graduate assistants provided for the runners. Every runner's registration number was thrown into a drawing for a chance to win gift cards to multiple Carrollton restaurants. The couple wanted to win the raffle badly, but unfortunately their numbers were not chosen.
Palma and Barnes had a great time promoting personal wellness with the other participants. This was their first 5K together as a couple, and they plan on attending many more in the near future after their experience at West Georgia's Mardi Gras 5K.
Comments
comments