Atlanta is an early favorite among many business experts for Amazon's second headquarters.
Hundreds of cities put in bids last month for Amazon's "HQ2". However, there are a few bids that stand out from the crowd. More specifically, Austin, TX and Atlanta are the primary favorites because of all they have to offer; big airports, relatively low cost of living and a high quality of life, along with a favorable business environment.
Many business analysts, journalists and anyone who is interested have given their opinions about who will win the bid. Forbes, however, made the observation that Atlanta has been on every list of Amazon's best options.
Amazon has very particular criteria a city needs to meet in order to make the cut. The first and probably most difficult one is their demand for 50,000 "high level jobs". With nearly 6 million residents in the metro area, Atlanta could easily supply Amazon with the manpower and talent that they need.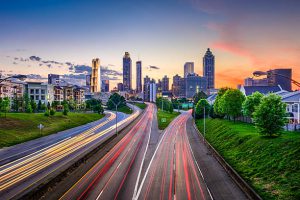 The city also has the tech-industry talent that Amazon is specifically looking for to fill those 50,000 jobs. With the presence of Georgia Tech and Atlanta Tech Village, the talent they need is already in the city.
Since Atlanta already has a strong tech industry, it also has the infrastructure. According to Moody's Analytics, "[Atlanta has] built superior logistics and adequate fiber connectivity." The city already has the technical infrastructure to support a company like Amazon. Again, this makes the bid more attractive, as the company would not have to spend valuable time and money on making sure the city has all that it needs to support their business.
Moody's also mentions that, "[Atlanta] has also become one of the most important professional services hubs in the South, with competitive costs of doing business supporting corporate relocations and expansions and allowing for agglomeration economies."
The city is not only an important hub for business, but it is a very competitive place to do business. Amazon is undoubtedly looking at the bottom line with their decision, and Atlanta offers a competitive price for businesses that operate there.
Atlanta also has the world's busiest airport to offer, according to the latest Airports Council International ranking. Atlanta's Hartsfield-Jackson International Airport knows how to move people and move freight, too. Judging by their high volume of traffic for the past few years, the airport is well equipped to handle the traffic that Amazon would bring through.
The airport is also a huge international hub. Amazon does business across the world, and Atlanta already has the capacity to support that international supply chain. Hartsfield-Jackson's wide array of international routes and experience with international shipping makes their bid that much more attractive.
With all that Atlanta has to offer, it also has a lot to gain from this potential addition. Obviously, the city would gain a substantial amount of revenue if Amazon moved in. Atlanta would also gain a lot of prominence among U.S. cities. Amazon's presence would make Atlanta more attractive for people to live and work, while boosting its reputation in the business industry, too.
All this being said, Atlanta stands a pretty good chance in the running for HQ2, but no one will know for sure any time soon. It is reported that Amazon will not announce their decision until 2018, though no official date has been set. Until then, the city is holding on to hope for what has been called a "corporate score of Olympic proportions".
Comments
comments