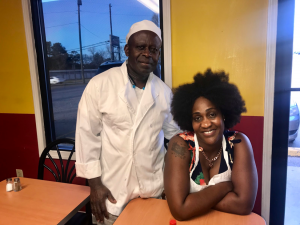 In December of 2017, Kadine Houston-Farr opened up Kay's Jamaican Cuisine on Alabama St. in Carrollton, Ga. Originally from Jamaica, Houston-Farr relocated to Carrollton and wanted to create an atmosphere where she can not only provide great food, but give back to her community.
Her motivation to open up a restaurant came from her family and friends encouraging her to do so because they loved her food so much. She originally wanted to open up a spot just for students, but those plans did not go through.
Houston-Farr enjoys collaborating with students. She wants students to not only be able to come in for food, but to hangout as well. Earlier this month, she collaborated with a community service organization on campus called Love Travels for their spirit night.
"Not a lot of people showed up, it could've been better supported," said Houston-Farr.
The turnout did not discourage her. Houston-Farr continues to build connections with students and create innovative ways to reach students at UWG.
She also plans to expand her restaurant into cities where there are not many Jamaican restaurants. The next stop on her journey is expanding into LaGrange, Ga. She is not in a hurry though; she wants to have at least two years in Carrollton to build and grow. Right now, she does not have a staff but eventually wants to employ and give back to the community. Houston-Farr is currently running lunch specials geared towards students.
"One of the things I took into consideration when making the lunch specials was the students," said Houston-Farr. "I didn't want them to have to pay a lot, but I still wanted to make a profit."
Her lunch special is $6 and it includes the choice between two entrees and a drink. She also added new items to her menu such as mac-and-cheese and Jamaican beef patties.
Houston-Farr says that so far oxtail has been the number one seller. She wants to create food and establish an environment that keeps customers coming. Her hope is that customers to come to her with concerns and know that she'll fix them right then and there.
Although it has only been two months, Houston-Farr has been loving owning her own restaurant.
"The best thing about owning your own business is that it gives you your own freedom," said Houston-Farr.
Comments
comments