Gubernatorial candidate and Georgia State Representative Stacey Abrams stopped in Carrollton on Oct. 25 for her
"We
Are Georgia" bus tour. The Democratic Committee of Carroll County held a fundraiser dinner and a rally, inviting Abrams to be the speaker.
Many citizens showed up in support of Abrams, her running mate Sarah Riggs Amico and the Carroll County Democratic Committee. Jamie Biddle, Chair of the Democratic Committee, facilitated the event and is supportive of Abrams' platform.
"The main thing that it boils down to is, she is for the people. A lot of folks don't get that," said Biddle.
"Her
platform is for the middle class, it's for the working poor, it's for everybody. People use that term,
'pull
yourself up by your bootstraps,' but you have to have the bootstraps to pull yourself up by to begin with. I think that her platform and her issues will allow that to happen if she's voted in."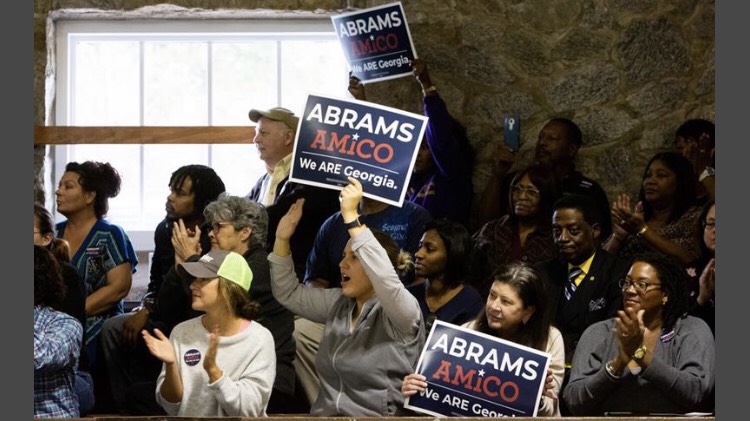 Biddle's beliefs differ greatly from many of his coworkers, friends and fellow Carroll County residents. According to the Election Summary Report for the 2016 national election more than 75 percent of registered voters in the county cast a ballot, and more than 65 percent of those that voted, voted for the Republican nominee, President Donald Trump.
Though most voters in Carrollton have voted for Republicans in the previous few elections not many showed up in protest of Abrams, but her opposition was still present.
Three protesters stood on the sidewalk of Cliff Street, beside the Cultural Arts building. The protesters' supplies were plenty of literature, and two flags
—
the Confederate Flag, and the old Georgia state flag designed like the one that was representative of the state from 1956 to 2001; this design included the
"Stars
and Bars", which is commonly associated with the Confederate flag. This is the same design of flag Abrams admitted to burning in 1992.
"Georgia Code section 50 – 3 – 9 says you can not do that, under penalty of law," said Billie Bearden, protester at Abrams' event and Carroll County resident.
"…
She stood up on the capitol steps, violated Georgia law, and is now running for governor.
"We stand here with the flag she burned to remind her that people are still proud of it," continued Bearden.
"It's
not a racist thing … it was only created to honor the dying Confederate veterans of the State of Georgia."
This is a concern many conservative voters have with the Democratic nominee. Many conservative voters see Abrams as
"extreme"
due to her alleged connections with far left political leaders and ideology.
Though two vastly differing opinions shared the same space, all attendees were peaceful and respectful.
"It's easy for me to walk out there and see that and get angry," said Biddle.
"That
flag stands for nothing but hate … despite the fact that this represents hate, they do have a First Amendment right to peacefully protest. They assured me that they would be peaceful, and I respect that. We may have a vast disagreement about what that flag stand for, but because of the fact that he can respect the First Amendment and what it stands for, I have to respect that."
Many of Abrams' other supporters shared Biddle's response to the protesters.
"They have a right," said a UWG professor in attendance.
"It's
important. I am a true believer of the First Amendment, and it is important for us to defend their right, and my right to say
'I
think you're crazy.'"
UWG students had a presence at the event as well. Xavier Jennings, a graduate student at UWG and President of the UWG Young Democrats helped plan the event and is an avid supporter of Abrams as well.
"She wants to expand the HOPE Scholarship," said Jennings.
"It
keeps us out of debt … I think that's one thing all students and Americans want is less debt. She's also relatable; she took the time out to come here and speak with us. She's not trying to divide people, she actually cares."
Comments
comments