Chaos, a local haunted house, has brought their scariest costumes and best workers to put the spook into the fall season in Carrollton. October is all about grabbing family and friends and visiting as many haunted houses as possible. Trying to find a good and also scary haunted house to attend can be a difficult task.
The haunted house exemplifies the name Chaos, a state of utter confusion and disorder; a total lack of organization and order. Within the walls of the outdoor trail at Chaos depict the true nature of humanity.
There are a few important facts partakers should know before entering Chaos. There is a section of the haunted house where guests will experience complete darkness through a tunnel and have to communicate and rely on their group to make it through. Another section exacerbates noise that is so loud you will not be able to hear the others in your group. Once all guests enter, they will not be able to exit until they find the proper way out. The attraction is partially outdoors so if you do plan on going, wear the proper clothes and shoes.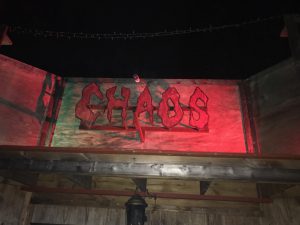 There are multiple rooms with different horror themes in each of them. There are characters dressed as zombies, clowns, and of course a custom in every haunted house, characters chasing guests with chainsaws. There is an option at the end to go through a small, dark crawlspace that leads to multiple scary characters forcing guests to run out the exit.
"For a big scare, we recommend going through the crawlspace that forces each guest to rely on their group to make it out," said Destiny Fox, owner of Chaos Haunted House.
Perhaps the most intriguing and compelling things about Chaos is that the workers hosting the haunted house are no regular haunted house hosts.
"We are actual Ghost Hunters who go out to any suspicious reported buildings or homes to help figure out what is actually going on inside," stated Ronnie Britt, member of Fox Family Paranormal Society. "We have cameras to catch all the live footage for proof of our findings."
Within this haunted house, there are many ghosts living inside. In the beginning of the haunted house experience, Britt shows live footage of his team finding actual ghosts throughout the location Chaos is in. This is to show all attendants what they are in for when entering.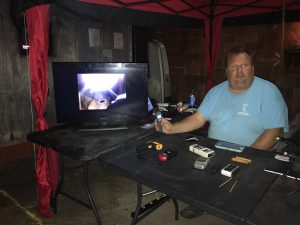 It has been stated that none of the ghost within the building will mess with the guest, but the truth will be found from the guests brave enough to enter.
Chaos Haunted House is located at 2247 Hwy 27 N. Carrollton. Chaos' hours of operation are Friday and Saturday from 8 p.m. to midnight costing $13 a ticket and on Sunday from 8-10 p.m. costing $10 a ticket. Both cash and card are accepted. There are multiple opportunities to receive a free ticket from workers by simply liking their page on Facebook. This information will be given to you upon arrival. Parking is free for all guests.
Comments
comments