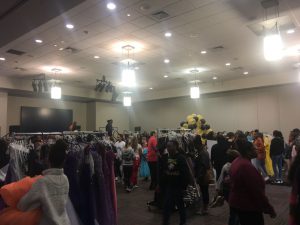 The organization Love Travels recently had their Belles of the Ball event which gives out prom dresses to high school students for free. With plans to expand to other cities and make the event widely accessible, the 2018 Belles of the Ball event was a step in the right direction. The event had a large turnout and even had a runway for all the girls to get a chance to feel like the "Belle of the Ball" and have fun doing it.
The event was held at the UWG Campus Center where the group gave out more than 200 dresses and had girls come from all over the west Georgia area to take advantage of this opportunity. With the prom season just around the corner, this was an affordable way for teens to still feel pretty at prom.
The event was organized by Scottlin Smith had plenty of volunteers from West Georgia to help make sure everything went smoothly.  Many had smiles on their faces the whole day as they suggested different style dresses for the high school students to try on. The volunteers were not the only people having fun, the parents enjoyed helping their kids as well.
Belles of the Ball began three years ago when the founder Scottlin Smith decided to donate a few of her own prom dresses to high school students. The event has since grown from a few dresses out of Smith's closet to over 200 dresses.
"We want the next step for Belles of the Ball to eventually travel to different cities crowning girls the Belle of the Ball," said Smith.
Love Travels puts on the event so everyone can have an opportunity to have a dress for prom. With prom dresses being such an expensive item to only wear once, Love Travels hopes to save parents money as well as making sure girls don't miss out because of their financial situation. 
"I started Belles of the Ball to ensure every high school girl is able to go prom no matter their socioeconomic background," said Smith.
With this year being such a success the future seems to be very bright for Love Travels and the Belles of the Ball event. Scottlin has big plans for the group and for herself as she prepares to graduate.
"In the future I see myself having my own nonprofit, being a mentor to young girls and simply spreading love," said Smith.
Comments
comments