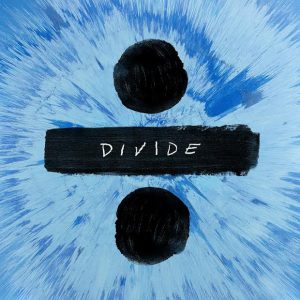 From the sweet harmonious ballads we slowly hum along with, to the upbeat hip-hop songs we scream in our cars, Ed Sheeran's new album displays the complexity of his 26-year-old mind. It is a mixture of heartbreak, happiness and jealousy all mixed together in conformity.  Like the album itself, these songs speak on a variation of arrangements. They may be used for a romantic first wedding dance or spirit lifting tunes at a local bar. Whatever the occasion, this album's range of genres has a little something for everyone.
Resembling most of his previous albums like "+" and "x", he incorporates an element of inventiveness within his work; in "Divide", it's the extreme variation Sheeran eloquently strung together in just one album. In this series of songs, he comments on societal forces, self-loathing and the ups and downs of love and loss.
Comparable to his previous 2014 album "+" , there are several heartfelt melodies within the new album. "Perfect" is a beautifully set love song that strays away from Sheeran's usual heartbreak overtone, and instead, uses his long-term girlfriend Cherry Seaborn as a new musical muse.
Sheeran's capability to step outside his comfort zone is demonstrated in this album and specifically in "Galway Girl," a song Sheeran fought to keep on the album for its playful Irish folk tune. Within the song, he pays homage to his own Irish roots and celebrates a girl who doesn't conform to the rules of love. Also, playing with vivid characters, is Sheeran's "New Man," describing the common distaste of an ex's new love.
A personal favorite, "Dive" has a progressive jazz melody similar to those found in the infamous John Mayer ballad "Gravity". This song gives the best vocal performance on the album and solidifies Sheeran's talent as a vocalist. Not only does this album clearly exemplify Ed's multiple talents, but two songs, "The Shape of You" and "Castle on the Hill", were named top 10 in the US charts, making him the first artist with a two song debut.
To reiterate just how varied the album is, when comparing the opening and closing songs they stand on opposite sides of the spectrum.  In the album opener "Eraser," he sings, "I used to think that nothing could be better than touring the world with my songs, I chased the picture-perfect life, I think they painted it wrong."  A refreshing twist to Sheeran's light hearted nature, demonstrating his frustration within his fast paced life.
The closing song, "Supermarket Flowers" is another delicate ballad Sheeran wrote honoring his late grandmother. Illustrating the painful loss through his mother's eyes, Sheeran uses his ability to portray such pure emotion in his music.
Overall, Sheeran's new album "Divide" captures his ability to stay vulnerable with his music. Always keeping his music true to himself, it displays his passion and growth through the industry. Not only will this album stretch to reach everyone's favorite genre  during those long spring break car rides, but has the track record proving its worthiness by Billboard's Top 100.