Peter Kahane, a German film director, recently visited UWG to discuss his filmmaking experience and share inside secrets of the making behind each of his films. Students and faculty gathered together for an actual viewing of one of Kahane's films, The Architects, and attended the question and answer event the following day to learn more about Kahane and his profession in the filmmaking business.
Kahane spoke about the way in which he conducted his films along with the significance and meaning that lies within each decision he has made in regard to being a director. Censorship was an extremely important issue during Kahane's earlier years as a Director's Assistant. It was a very strategic task for filmmakers to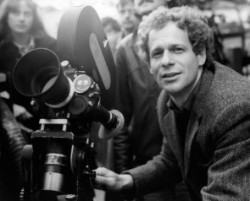 find a balance between showcasing their own artistic and political intentions without becoming victim to censorship. Each filmmaker had to develop their own style and Kahane's passion was heavily displayed through comedy.
"I also had to think about how I can handle censorship," said Kahane. "My way was the comedy. The friendly and apparently innocent genre offered all possibilities to present the themes of the present critically and at the time, entertainingly."
Each of Kahane's films hold a piece of advice and something the viewers can learn from and take with them throughout their lives. In his first feature film in 1985, Ete und Ali, Kahane had a goal in mind. He used characters that related to the audience and did all of this without propagandistic embellishments.
"There was always well-meant advice," said Kahane. "It was care with an intimidating effect and that was politically wanted. In comedy, we were able to discuss this and give an accurate social image of youth in the German Democratic Republic (GDR)."
Kahane has faced many trials throughout his career. In particular, his post-war generation was mistrusted because they were considered "politically unsafe". This is what pushed and inspired Kahane to create more films that dealt with the societal issues at the time. His next filmed was intended to teach his audience to fight for what they believe in instead of accepting all things. What Kahane didn't know was that he was going to run into trouble with censorship interventions for this particular film.
"The studio director accused me of showing the GDR in its 'backyard view'," said Kahane. "There were disagreeable discussions and the invitation to shoot some 'beautiful' pictures, so I fulfilled this duty I knew: it would not change the effect of the movie. 1987 was the premiere of the film and again we were able to win a big audience."
While Kahane was gaining major success and praise from a large audience, he found himself not able to truly enjoy it because his next film was expected to bring on even more issues. During this time Mikhail Gorbachev, former General Secretary of the Communist Party of the Soviet Union, initiated a reform process in the Soviet Union. Kahane decided to create a film that was not a comedy.
"The film should show my political and professional frustrations and the grueling struggle for minor freedoms against a stubborn political leadership," said Kahane. "I knew that I hardly had a chance to realize such a film project, but I wanted to try it."
With his ideas in mind and a lot of planning, Kahane created his film, The Architects. To his surprise, the members of the studio management really liked the script and wanted Kahane to proceed with the making of this film.
During the filming, Kahane was still living in a country surrounded by the Berlin Wall that the SED (East German Communist Party) ruled. The Wall eventually fell and had a major effect on Kahane's filmmaking decisions.
"Several times during the filming, I thought about updating the film, but the big events were always a few steps ahead," said Kahane. "At some point, I gave up this idea and just finished the film."
Although Kahane's intentions in creating The Architects was to better his country, his outlook on the film changed after the fall of the Wall.
"A great wave of history had washed over us," said Kahane. "And today that the country has disappeared, I am glad to leave something like a document that shows the atmosphere of my country in the last phase."
At the end of the GDR, Kahane's filmmaking experience was quite different. He began working with people from West Germany. This was a big learning experience for Kahane.
"I had a lot to learn about understanding how films were made under the new circumstances," said Kahane. "The West German system is complex."
Kahane learned that the most important partner in the filmmaking business is a producer. Unfortunately, he could not find any producers in East Germany after the fall of the Wall.
"I tried to work with Western colleagues, but they had unexpected reservations," said Kahane.
In his generation, Kahane had been considered too young and too inexperienced in the GDR, but in the West his generation was too old. Kahane began writing scripts for TV movies and occasionally shot the TV films as a director.
Kahane has had an extremely successful career with many opportunities, but he now wants to concentrate on very specific projects in regard to his youth in the GDR.
"I would like to tell a story from my youth in the GDR about love, conflicts with school and parents and about growing up," said Kahane. "Above all, I want to show the pressure to adapt to the political system in a small way."
Kahane is not yet at the end and plans to continue on his journey to create films that deal with everyday life of young people in the GDR. No matter the trials he may face in his future endeavors, Kahane is willing to accept all challenges ahead.
Comments
comments