The Campus Center has undergone a major revamp by replacing and adding newer, modern exercise equipment.
Renovations officially began two years ago when UREC employees started researching the best machines that could incorporate new ways to attract more people to a healthy, physically fit lifestyle. During this time a couple of the employees explored different recreational centers and gyms, even going as far as traveling to another state.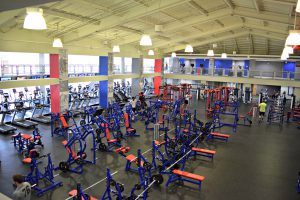 "We attended different conventions in Chicago and toured different factories where all the equipment are made," said Stephen Delaney, Associate Director of Operations. "Then we came back, presented our proposal to the leadership of the university, and justified why it was something that need
ed to be done.
All the new equipment came from a total of four different companies. The strength equipment were purchased from Life Fitness, the cardio equipment were bought at both Precor USA and Ready Fitness, and the rest were gotten from Advantage Sport & Fitness. The total cost for replacement came at about $500,000.
"We reached out to multiple companies, did walkthroughs with all of them, and they all pitched us different designs," said Delaney. "Then within our department, we decided which ones would best suit our facility and went for those."
Since the upgrade, the gym has seen an increase in both student and faculty gym goers. The most technologically advancedequipment are the cardio machines, which are also the most popular amongst the students. This is because the devices have television screens, and offer students the option of signing into either Netflix or Hulu while working out.
"We knew that our cardio equipment were outdated and needed to be updated," said Delaney. "So we decided to get the ones that had activities students are interested in and would like to see, but also devices that can run digital display."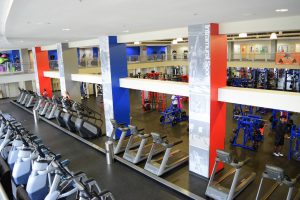 Besides the fitness floor, UREC also made changes to different areas of the Campus Center, including replacing the carpets in the building and installing new Bluetooth and AV systems in the group exercise studios.
"We'll never be done working on upgrading," said Delaney. "Just a few weeks ago we put all new furniture in the atrium outside of the ballrooms, and we're currently working on digital display signage throughout the facility."
Regular student gym goers started noticing the changes during the summer and are very excited about the improvement.
"The new equipment encouraged me to go to the gym often because I could work out while catching up on my shows on Netflix," said Aramide Olorunfemi, a senior and dedicated gym goer. "It's amazing! I can also keep track of my fitness goals and listen to music while on the bicycle which makes exercising so much fun for me."
UREC is hoping that the new improvements will attract even more students and faculty to the gym and encourage them to work out more.
Comments
comments