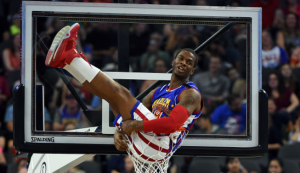 On Mar. 2 at 7:00 PM the legendary Harlem Globetrotters will be performing right here in Carrollton. For the 3rd time since 2010, the Coliseum will be hosting one of history's greatest entertainers in a night that will be filled of joy, wonder and laughs.
Having played in more than 26,000 exhibition games in 122 different countries since their founding in 1929, the Harlem Globetrotters combine wondrous acts of theatre, athleticism and comedy in the form of a basketball game. They dazzle crowds with wizard-like ball handling tricks, flashy shots and dunks, and by integrating props into their show while interacting with their audience.
Their opponent, the Washington Generals, is looking to end a 47-year losing streak against the Globetrotters and get their seventh win ever in the near century long rivalry. The Generals themselves have created a more competitive look for the team, and the revamped group looks to make a statement.
Not only is this a marvelous event for UWG students to attend, but for everyone in the Carrollton community. The event is suitable for all ages, and is welcome for everyone to come have fun.
"This is great for the community, for us to be able to host this and for people living here to be able to come and bring their kids with them to enjoy this is special," said Trent Ross, Director of the Coliseum.
The Globetrotters roster includes the likes of Nathaniel "Big Easy" Lofton, Ant Atkinson, Kris "Hi-Lite" Bruton, Corey "Thunder" Law, Bull Bullard and Brawley "Cheese" Chisholm – along female stars Fatima "TNT" Lister, Crissa "Ace" Jackson and Briana "Hoops" Green. The group's newfound style and flash makes for the ultimate athletic entertainment without the tensions and seriousness of a professional game.
Once the game itself is over fans in attendance will be able to meet the Globetrotter players on the court, take pictures and get their autographs. The event is all for having fun and living in the joyous moment. The Globetrotters are entertainment unlike anything else in the world of sports.
Tickets can be bought at the Coliseum box office as well as on the Harlem Globetrotters official website. However, the tickets are running out quickly.
Comments
comments