Troy Johnson is the newest addition to UWG's Strength and Conditioning staff.
Within his first two months at UWG, Johnson has already made a lasting impact in the weight room with his energetic spirit and willingness to push athletes to their limits.
As an enrolled graduate student and in charge of in-season and off-season workouts for UWG's athletic teams Johnson's weekdays are undoubtedly demanding, but his passion for coaching prevails. Johnson is in charge of the strength and conditioning programs for UWG's volleyball, tennis and track & field teams. He also assists with the workout programs for UWG's baseball and football teams.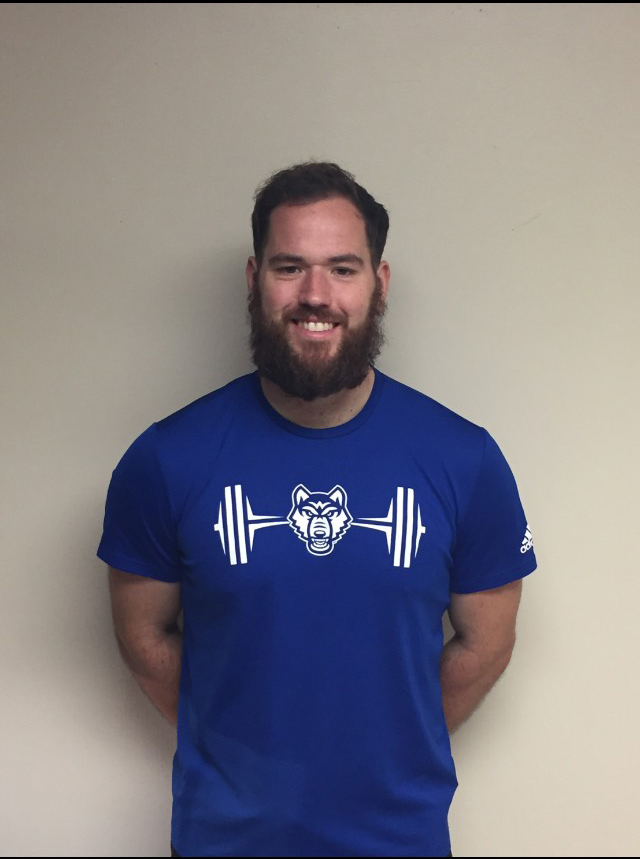 "It
certainly requires me putting in a lot of time to get all of this accomplished, but the time I spend in the weight room with the athletes is the most enjoyable and rewarding part of my job," said Johnson.
Johnson states that his ability to build relationships with athletes and willingness to modify workout programs to meet an athlete's specific needs, sets him apart from the average trainer. This is what makes him an effective and productive strength and conditioning coach for athletes at UWG.
"This
helps my athletes know that I care about what is best for them which, as a result, gets them to truly listen to what I say in order to understand the importance behind everything they do in the weight room," said Johnson.
Johnson has high expectations of every athlete he works with at UWG. He holds daily, monthly and yearly goals for himself when it comes to coaching athletic teams in strength and conditioning.
"My
goal while being a strength and conditioning coach here at UWG is to first and foremost help every athlete that I work with reach their highest potential in a safe and smart manner," said Johnson.
"In
this line of work, you need to carry many different characteristics such as selflessness, understanding and patience while also instilling positive mindsets within each athlete through staying disciplined and employing a hard work ethic."
Johnson gives credit to Head Strength and Conditioning Coach, Monte Curtis and Assistant Strength and Conditioning Coach, Chase Tripp, for their vast knowledge in the field within his first two months at UWG.
"Personally,
I want to learn everything I can from these two coaches about strength and conditioning to help me become the best possible coach and grow in knowledge of this field of work," said Johnson.
Johnson is a native of Munster, Indiana, about 30 minutes outside of Chicago, Illinois. He attended Quincy University, located in Quincy, Illinois, where he played football for five years and studied Exercise Science. His love for sports grew his eventual passion for weight lifting and conditioning.
"I
fell in love with the weight room at a very young age. I was passionate about playing baseball and football growing up and knew that getting bigger and stronger would only help me improve in these sports," said Johnson.
Johnson's short-term career goals include being a full-time strength and conditioning coach at a university, either Division I or Division II. He sees himself working 15 years from now for a big football program as head of strength and conditioning, or working with professional athletes in the NFL or MLB.
"I
have extremely high hopes for myself in this field going forward and think that UWG is the perfect stepping-stone to get me to where I want to get," said Johnson.
Johnson is excited for this opportunity to expand his knowledge in the classroom as a graduate student, as well as in the weight room coaching UWG athletes to their full potential. He has high expectations for his athletes in the weight room this year and believes their hard work and dedication from the strength and conditioning programs will show on the court or field in season.