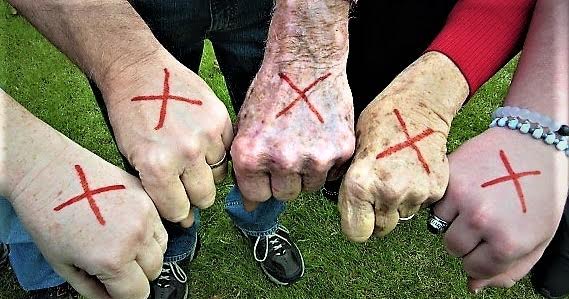 For many years, the End It Movement has used their voice against slavery. Slavery is illegal in every country, yet it still exists all over the world. An estimated 20 million people are enslaved in different forms of  anywhere from forced labor to human trafficking. The End It Movement was born to raise awareness about modern day slavery. On Feb. 23, the End It Movement wants you to join with them to shine a light on slavery and be in it to end it.
Many believe that slavery ended after the Civil War but that is far from the truth. There are people in the world today that are trapped. Some are forced to work without pay, some are subject to human trafficking, being controlled and are unable to walk away. Nearly one in every five victims is a child and fifty five percent are women and girls. There are people trapped in slavery in 167 countries which makes up 87% of the world's nations. The End It Movement was founded in 2013 in hopes that it would raise awareness to modern day slavery and try to combat it.
End It was created by Pastor Louie Giglio and the Passion Movement. It is a coalition of 16 nonprofit organizations such as the A21 Campaign, The Salvation Army, Love 146 and World Vision all focused on fighting for freedom, they call themselves 'freedom fighters'. They work year-round on the ground in hopes of bringing awareness and creating opportunities to do their part to end modern day slavery. Their website states that their goal is to bring "Awareness, Prevention, Rescue and Restoration."
Each year End It picks out a day for the entire world to become "freedom fighters" and use their voice. That day is called Shine a Light on Slavery Day. On this day people are asked to draw a red X on their hand to join in the movement to shine a light and give a voice to those that don't have one. "We want to lift our voices for those who have no voice and bring awareness to the nation for people who have no idea that this is going on." said founder Louie Giglio. In the past, the Passion Movement students have raised millions of dollars for the cause. People have been rescued from entrapment and given hope thanks to the efforts of all those involved in the End It Movement. Hundreds of politicians and celebrities like Carrie Underwood, Peyton Manning, Kyle Korver Ian Somerhalder and many more have become freedom fighters.
"It's not any one person or organization that's going to solve this. It's every one of us, doing what we can, at the level of influence we have, to not only shine a light on slavery, but to end it," added Giglio . This year, that day is Feb. 23. End It invites you to draw a red X on your hand and tell your world, get creative and use your talents to shine a light. End It states on their website "Awareness is doing the work, but awareness must lead to action." This could be the generation that sees the existence of slavery finally cease to exist. For more information on the End It Movement please visit
Comments
comments