The UWG Department of Campus Planning and Facilities recently presented the Campus Master Plan in a town hall meeting, showing the proposal to students, faculty and staff, while also answering questions and gathering feedback of the plan.
The Master Plan is the result of a three to four month data analysis of the campus with an outside consultant, taking in to account campus topography, traffic, weekly schedules in classrooms and other factors. While the plan is ambitious, no details are firm yet, as it must still be presented to the Georgia Board of Regents for approval.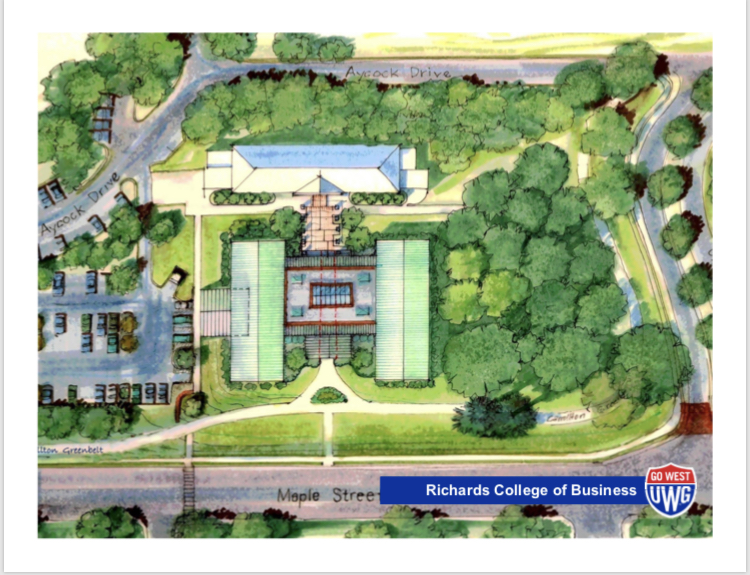 Phase 1 of the Master Plan focuses on many relocation efforts. Notably, the baseball field and track will be relocated to the Athletic Complex, freeing up green space on campus as well as consolidating campus athletics into one major area. The first phase will also seek to improve pedestrian life on campus with the addition of clearly defined footpaths to connect the less accessible areas of campus with the heart of campus at a crossroads in Love Valley.
Further, Phase 1 includes the possible future projects of a new residence hall behind the Arbor View Apartments and a new building for the Richards College of Business on Maple Street.
Phase 2 of the Master Plan will address a concern for many members of the UWG community, campus traffic. In order to discourage cut-through traffic and speeding drivers, three-way stops will be installed at major campus intersections.
Also, the second phase of the Master Plan will task itself with updating campus buildings and spaces, including renovations of the Bookstore, Pafford Building, Humanities Building, Gunn Hall, Strozier Hall and Ingram Library.
The University Community Center, Boyd Building and Anthropology Building will be demolished in Phase 2. The programs inside these buildings will be moved to other areas on campus, possibly the newly renovated buildings mentioned above. These demolitions will make space for a more connected campus, as well as the addition of a 4,000-seat amphitheater in Love Valley. The amphitheater aims to preserve the valued green space of campus, while also creating a formal area for large events such as a concert or graduation ceremony.
Phases 3 and 4 of the Master Plan look to the far future with larger, long-term projects. Their tasks include the addition of a science complex connecting with the Biology Building, as well as connecting the academic buildings on Front Campus Drive to the Academic Quad, creating a more centralized campus.
The Master Plan has many proposed changes for UWG in store. While the time-table of the plan is not yet set, the campus that many students call home today could look very different in the near future.
Comments
comments