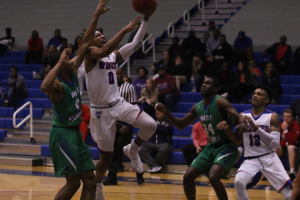 The UWG Men's basketball team finished the regular season with a record of 14-13, putting them on the outside of the Gulf South Conference Tournament bracket behind the University of Montevallo who were 15-14.
With Montevallo occupying the last seed for the Gulf South Conference playoffs, it looked as if UWG was going to miss out on a chance to play in the postseason. Fortunately for them, another team in the Gulf South with a 19-9 record was forced out of the playoffs after being disqualified for violating the NCAA rules.
NCAA regulations and violations have been a major part of college basketball for years. The NCAA's enforcement department goal is to uphold integrity and fair play among member schools. In the 2017-18 season, the University of West Georgia Men's basketball team became a beneficiary of a violation mishap of another team.
The University of West Alabama was disqualified from the Gulf South playoffs for having an ineligible player on the roster. The team was ready for the playoffs with a conference record of 13-7, that would have put them in the number three spot. Unfortunately, UWA's season came to an end due to an NCAA violations that disqualified them from participating in the Conference Playoffs.
With West Alabama being disqualified from the playoffs, a spot opened for UWG's men's team to claim the eighth seed. With having the eighth seed, UWG was set to face number one seed Valdosta State.
"We are sad to see any teams not able to reach the tournament due to an ineligible player," said Matt Cooke, Assistant Athletic director. "However, we benefited from that and are happy that we were able to participate in the conference tournament."
When it comes to sports, anything is possible. UWG had their seasons revived due to an unfortunate situation. Even though the team lost to Valdosta state 90-106, it gave the Wolves a chance to play in the postseason.
Comments
comments