UWG is holding its 37th annual Media Day event where students have the opportunity to network with professionals as well attend workshops and panel discussions on how to succeed in the field of communications. In previous years, the National Broadcasting Society Alpha Epsilon Rho (NBS-AERho) hosts a blue carpet where a member of the organization interviews students on how they felt about the event, as well as professionals at the event.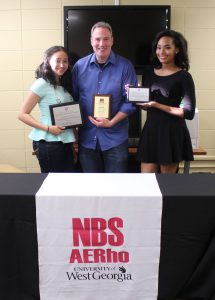 The NBS-AERho's goal is to help students prepare for careers in the media industry. Members have the opportunity to to connect with individuals who are in the profession. The organization offers Mass Communication students, as well as anyone interested in the field the opportunity to expand their skills through various workshops and panel discussions with guest speakers.
A huge occasion is a national convention where other chapters from across the nation meet in various cities. At this event, members of NBS-AERho are able to network with professionals as well as attend panel discussions.
"With the convention, students also have the opportunity to submit their work for national recognition," said Sierra Lemelle, NBS-AERho Vice President. Chapters also can enter for various chapter awards; we have continuously won the model chapter award."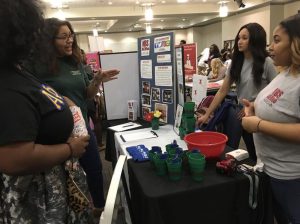 NBS is the main organization and has more than 51,000 previous members working in the industry and similar fields. Alumni of the organization have gained leadership experience, developed resume-writing skills, learned job-interview techniques and have gotten many networking contacts while being an active member of NBS.
AERho is an honors society that is affiliated with the National Broadcasting Society and is the only National Honor Society for students working towards a degree in electronic media. Being a member of AERho is correlated with being an NBS member, but is different than being an NBS member. Not all NBS members can be in AERho, students must have a 3.25 GPA to get inducted into AERho.
NBS-AERho has several workshops planned throughout the spring semester in hopes to help students connect with professionals, gain leadership and production opportunities.
Comments
comments