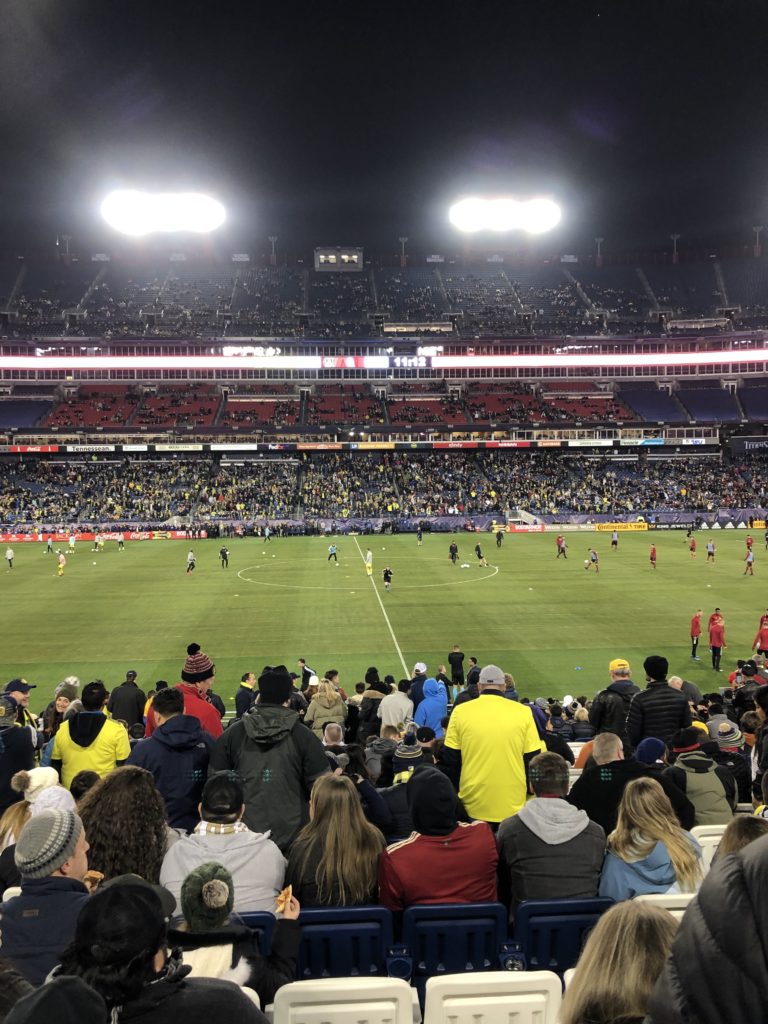 The moment that the city of Nashville had been waiting for finally came, and it was glorious. To the unknowing locals and visitors, something was brewing. Signs and billboards previewing the momentous occasions popped up all over the city, and a coalition of Atlantans began making their presence known in Tennessee's capital.
This season's MLS opening weekend presented many —if not the majority of— Atlanta United fans with the opportunity to watch the Five Stripes play an away match for the first time. A four-hour drive littered with beautiful scenery is all that separates Atlanta and Nashville. The next closest MLS opponent Atlanta will face this season is Orlando City, and that's at least a six-hour drive.
A few hours before the match, Broadway filled with Atlanta United fans. If one couldn't see the Atlanta crowd on Nashville's busiest street/tourist attraction because of the blinding sun hanging overhead, they could definitely hear the "VAMOS ATL" chants and exclamations to the effect of "WOO, let's go baby!"
Atlanta fans soon began migrating across the Cumberland River for the main event. Approaching the stadium across the bridge from downtown, a plume of red and black smoke floating up from the northern parking lot from Nissan Stadium's northern corner provided a reference point to locate Atlanta's most diehard fans. At that moment they represented the Atlanta United fandom perfectly by tailgating, marching and chanting just as they do for home matches. Not to discredit Nashville of course, who were just making their league debut.
Nashville was determined to mark the occasion by drawing ideas from the city's famous musical history. Tennessee's own Judah and the Lion collaborated with Nashville SC to produce the club's new anthem titled "Never Give Up On You," and Lzzy Hale performed a guitar riff prior to kickoff.
When it was time for the match, Atlanta fans and Nashville fans connected through the beautiful game, and came together to witness one of MLS' newest additions to the league take on one of the league's top teams that has set the standard for new expansion sides.
United fans can recall memories of partaking in their team's MLS debut better than most. Atlanta entered the league as a brand-new franchise in 2017, and shades reminiscent of Atlanta's MLS debut against the New York Red Bulls began to become more apparent as the match wore on.
Atlanta would win the game 2-1. A unified feeling of excitement and anticipation, and euphoria's descent upon the debutant's temporary home, are all emotions and experiences that Atlanta United fans will fondly remember.
Goals from Ezequiel Barco and Emerson Hyndman spoiled Nashville's debut and secured the three points for Atlanta. Walker Zimmerman bagged Nashville's first MLS goal in the club's history and wrote his name down in Nashville SC's lore.
From Atlanta's point of view, the match and the ensuing result were marred after news of Josef Martinez's injury broke out the following day. The striker went down injured, left the field, and returned to play. Unfortunately, Josef had to be removed from the field on a stretcher and was later diagnosed with a torn ACL.
Depending on how long it takes for Josef to recover and return to the field, Atlanta may need to sign a replacement. Finding someone to replace his production is going to be a difficult task, but Atlanta United is going to find a solution to the issue.
Nashville and Atlanta will probably, and hopefully grow to become great rivals barring an Orlando City-esque state of existence. It's very likely that fans from both fanbases will make the drive to the other city on a regular basis. For now, Atlanta fans won't be visiting Nashville to see Atlanta United play in a MLS match until at least 2022. Nashville currently competes in the Western Conference, but expansion elsewhere in the league over the next two years would logically see Nashville make the switch to the Eastern Conference. When that happens, a new, authentic rivalry could be born.
Comments
comments