A team of students from the University of West Georgia will be honing their marketing skills in a social media competition held by Ball State University and their Center for Advancement of Digital Marketing and Analytics. The event is meant to challenge undergraduate students to solve a real-world problem using social media marketing tools. It is led and coached by UWG Professor of Marketing Jack Wei and Assistant Professor of Marketing Agnieszka Chwialkowska. The UWG team will consist of UWG students Dayzia Gray, Ashley Hood and Ji'brayah Marson-Young.
The UWG team will first participate in the preliminary round of the competition, which will consist of creating a social media campaign to solve a real-world problem based on a case study provided by the Center for Advancement of Digital Marketing and Analytics (CADMA.) The case will revolve around the Young Women's Christian Association (YWCA), which is a non-profit organization that exists to eliminate racism, empower women, promote peace, justice, dignity and freedom for all.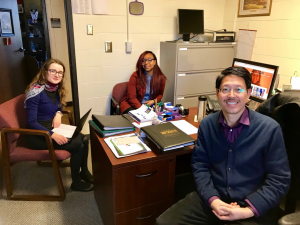 The team will focus on creating a social media strategy to help the YWCA expand their efforts as well as connect with other organizations that can assist their work and mission statement. It will also give students the opportunity to leave their mark on the organization and have some highly-credible experience for their resume.
"This is an opportunity for them to sharpen their skills," said Wei. "So they can develop strategies, they can show how they can use the tools for this non-profit organization. So they can learn a lot even from other students from other universities."
The team will put together a five-minute video as well as a PowerPoint presentation of their social media strategy for the competition. Of all the teams that participate, twelve will be selected to travel to Ball State University in April to participate in a separate competition. Their video and PowerPoint will be submitted on Feb. 2. The decision of who passes the preliminary round will be announced on Feb. 16.
The social media competition is being held because it is expected that by 2019 social media marketing will account for almost a fourth of corporate marketing budgets according to CADMA.
"Many companies want to be present on social media, but they just jump there without any plan or knowledge about their target audience," said Chwialkowska. "So it's important when you're there to have a social marketing campaign. We want our students to learn it and also have something to prove to their future employers that they can apply those skills. So, the competition will be a great opportunity for them."
If selected, the team will have the opportunity to present their presentation and skills to business sponsors at the event and travel to the final round. The event is all-inclusive except for travel and has cash prizes varying from $750 for first prize to $120 for most creative presentation. The final round, which will consist of the top four teams, will also be live-streamed.
Comments
comments