UWG's Student Filmmakers Club held their 2nd annual Southern Sunset Undergraduate Film Festival; (SSUFF), on Jan. 24. The community had the opportunity to attend three separate viewings in Humanities and at the Carrollton Cultural Arts Center. Students from the entire southeastern region had the opportunity to submit their work. This year students from Florida State University, Georgia State University, Vassar College, University of Tennessee and University of North Carolina submitted their work and were selected for viewing.
Winning films were chosen by the Student Filmmakers club. The prizes awarded were announced during the awards block with a following reception. The following categories with the following winners were announced: best narrative fiction film, If, best documentary film, Free Art, best experimental film, Dear Goddess, best screenplay, Hollywood, audience choice award, If.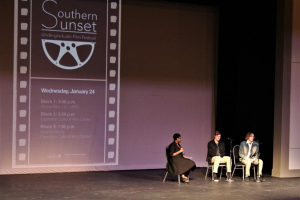 "Building that sort of community of filmmakers… from out of town and showing their work but also seeing the work [the University of West Georgia] is doing, having [UWG] students see the kind of stuff going on close by but also far enough away to where it is different types of stories or different perspectives, is beneficial as a filmmaker to view other people's work or to view a lot of different kinds of material and films," said Christopher Sailor, UWG professor, faculty advisor for the Student Filmmakers Club and festival director.
The Student Filmmakers club began in Spring 2016. This group of film and video production students created SSUFF to bring student filmmakers from the southeastern region of the U.S. together. Their mission is to allow students an opportunity to showcase and ignite their creativity among other students and the community through establishing a platform to showcase screenplays and films, in hopes of putting students from this region on the map.
"One of the goals are an elevation of our students work and building an event that is going to give them a venue for not only showing to the community but visiting filmmakers and to hopefully people from out of town who are coming to participate or to view them," said Sailor.
This year the event also has support and assistance from Tim Chapman, superintendent of the Carrollton Cultural Arts Center.
"There are hopes to build something for the school and the local community as an event and a means of sort of putting Carrollton on the map as an arts destination. The big drive is to hopefully attract production," said Sailor.
Sailor has worked with the Atlanta Film Festival from 2012 to 2014. With his experience and guidance, the Student Filmmakers Club is a driving force in putting this festival together.
"Putting this festival together helped her to get her foot in the door and is good for resume building by analyzing film more, and getting to learn the lingo and language,"said Sydney Hill, president of the Student Filmmakers club and SSUFF student manager.
Next year the Student Filmmakers club plans to be even bigger. If interested in they host monthly meetings. For more information, visit orgsync.com.
Comments
comments