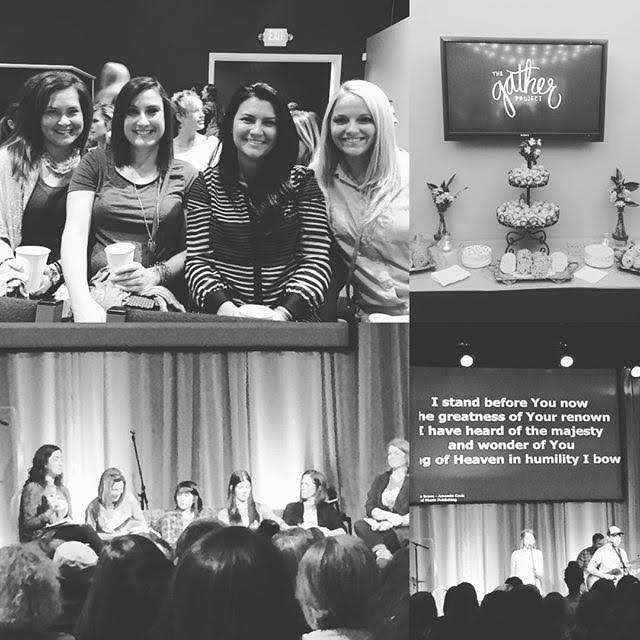 The Gather Project was created in 2015, in hopes to reach young women in the West Georgia community and to unite those women regardless of their varying life experiences.This event's main goal is to create an inviting environment where young women can gather and meet new people, while worshiping in freedom.The event is held every other month and once during the summer at West Hills Church in Villa Rica. The Gather Project begins offers treats and coffee before the event begins with worship and the speaker. The women behind this event suggest that you bring your Bible and something to take notes with, or write down any questions you might have afterwards. The Gather Project is meant to help women build their relationship with God, and know that they are blessed despite the trials they might be going through. The creator of the Gather Projec, Hannah Ladd, has successfully made her vision come true with the help of close friends and a tight community.
"We say: Gather, Dwell, Abide. We want women to gather together in worship, dwell in His presence, and abide in His Word," said Ladd. Hannah is a former student at UWG and now a wife and mother of three residing in Carroll County. Ladd created The Gather Project in Aug 2015, and held the first one on Oct 8, 2015. Needless to say, it turned out better than she could ever have expected. The Gathers Project has grown tremendously in numbers, and continues to do so each time.
"It's important to me because I've been the insider and the outsider of church. I've felt accepted and I've felt like I've slipped through the cracks," said Ladd. "I believe we can witness revival right where we are in our area of West Georgia by just choosing to let God use us in our homes and schools and jobs."
The Gather Project focuses on a different topic at each gathering as it relates to the trials and tribulations that women experience during their lives. The topics range from discipleship, relationships, marriage and how to study and understand the Bible.
"I think the first one will always hold a special place in my heart," said Erin Ray, event administrator and organizer. "I loved hearing the stories of women who said yes to God, even when it looked hard."
Before each speaker begins speaking on the selected topic for that month, worships songs are played by a local band or artist. The songs played are closely related to the events topic, and are chosen to help the women feel the presence of God. Different local worship leaders have been chosen to lead the worship at the service, including Kyle Edenfield, worship leader at Midway Macedonia.
The women behind this event have also created Bible study groups to continue growth outside of the monthly meetings. These Bible studies are usually held at one's home or a local coffee shop. The women behind the Gather Project hope that having the bible study will continue to have growth within the women themselves, and be able to share their stories and testimonies with the world.
"I love that it is a place that women come to love on one another for God's glory," said Ray. "A place that it didn't matter if you were a college student, professional, mom (working or stay at home), or grandma, the only thing that matters is gathering for His glory,"
The next Gather Project gathering will be held on April 13 at 7 p.m. T-shirts and tank-tops will be available for purchase. For more information, please visit the Gather Project's Facebook or Instagram.