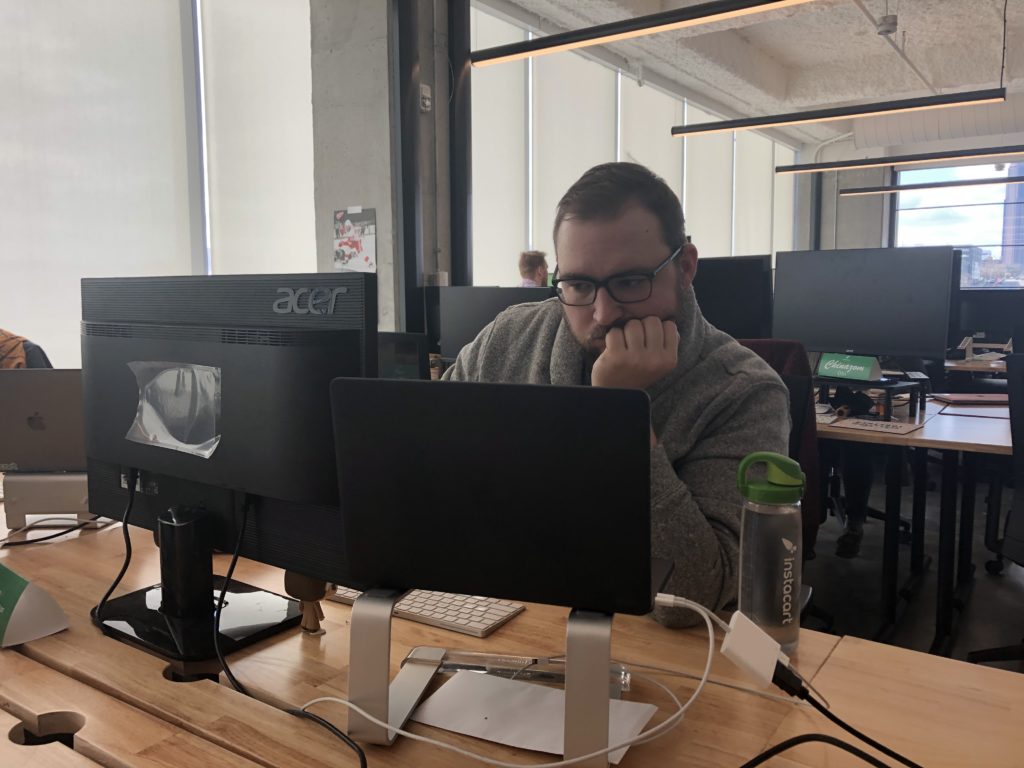 When impacted by something, we often return back to it. For UWG Alumni Justin Monsewicz, that means returning to participate as a network professional in the annual Media Day event.
After attending Media Day three times as a student, it being one of the main highlights of his college experience, Monsewicz wants to be able to provide the same for current students. This year will be his fourth time as a professional in Media Day.
"One of my first internships came about because of Media Day," Monsewicz said. "I got to intern one summer with the Carroll County School System and its public relations office. That same connection afforded me (along with fellow alumnus Chris York) the ability to help produce a video the school system used to promote its career academy."
The first day after graduating in 2013, Monsewicz was unsure of what to do, but he started to look for new opportunities while working at his part time job. He was hired on by his part time job at the time to become a full time employee a few weeks later.
"I began my full-time career at Pipeline Social Media and learned a lot," Monsewicz said. "I had several accounts I was managing, including handling all of the content for their social media channels. Handling the content meant not only posting it but coming up with the content as well, both text-based and graphic-based. On top of that, I also responded to all comments and messages. Some clients required blog posts, so I would write those too."
After working for Pipeline, Justin had the opportunity to do something new, working as a research analyst for Avison Young Hospitality group. Although social media was not involved there, he still had responsibilities like writing market studies and research. He wrote approximately 50 market studies on his own while working for the company.
"Avison Young Hospitality Group is a hotel brokerage firm. All of the properties we sold were in different markets throughout the United States and part of my job was to research these different markets," Monsewicz said. "For example, if we had a hotel in Nashville we were going to list, I would research Nashville's economy, see which companies were investing money, which companies were bringing in new jobs, researching how much money tourism brought in each year, etc.
"This would require spending a lot of time researching data on the internet and then figuring out which was relevant, up-to-date, and was useful for us. I would then take all of that data and write a market study," continued Monsewicz.
After spending time with Avision, Monsewicz saw Instacart pop up on his LinkedIn account. The description matched his interests and he decided to apply, receiving a response the next day and now calling them home for the foreseeable future.
"I am a content writer for the Instacart Care team based in Atlanta, Georgia. Instacart Care is devoted to any aspect that involves our customers," Monsewicz said. "The content team is accountable for critical thinking, consulting, strategic recommendations, and content creation across the Instacart Care scope of work. This means not only are we writing and creating content, but we also work alongside several other teams throughout the Instacart organization."
In college, Justin aspired to be a social media manager and a marketer, which he was able to achieve. He was motivated by the fact that social media was new and was being incorporated into businesses and organizations and that was exciting for him. He encourages young journalists to write and read to develop their skills further.
"In a word: write. Find ways to keep writing and further your skills. Writing for the campus newspaper? Do it. Writing for a local non-profit? Do it. Writing for a blog? Do it. Writing for yourself? Absolutely do it." Monsewicz said. "Professional sports players, famous musicians, chefs, etc., all got to where they are by practicing, developing their skills, and learning from others. Continuing to write and read will afford you the same."