Students, faculty, and families gathered at the UWG Observatory to experience the 2017 Solar Eclipse on Aug. 21. This particular event was planned for well over a year and finally came together for the viewing of a significant moment in history.
The solar eclipse was advertised throughout different sources of UWG media, encouraging everyone to attend the observatory on this day to learn more about what might be a once in a lifetime experience for some.
"We have been working on this in some way, shape, or form for about two years now," said Ben Jenkins, Associate Director of UWG Observatory and Sr. Lab Coordinator for the Department of Physics. "We have been putting out information on the Facebook page, the university website, and have had some radio and television appearances."
In order to safely view the solar eclipse, the correct eyewear was essential. The Department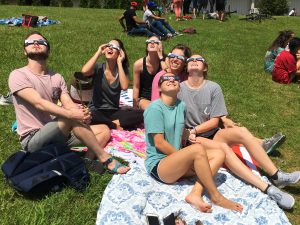 of Physics and the College of Science and Mathematics provided over 20,000 pairs of glasses to ensure everyone was having a fun and safe experience.
"The Department of Physics and the College of Science and Mathematics are responsible for providing the glasses," said Jenkins. "At this point we have distributed 30,000 pairs of glasses that were raised with funds along with an additional 10,000 that were raised from funds within the Department of Physics using the NASA Space Grant, which was also used to upgrade the observatory."
The observatory had several telescopes set up for the people in attendance to utilize along with Jenkins, who explained in detail exactly what was going to happen when the solar eclipse took place.
"We are going to see about 95.3 percent of the suns disk covered at 2:34 in the afternoon," said Jenkins. "For about five minutes around that time we will experience lighting conditions that are about four percent of the total output of the normal daily basis, which would be similar to the lighting conditions experienced on Jupiter for that time period."
The expectations were high as the peak time approached. Finally, the solar eclipse reached its maximum peak and Jenkins made an announcement to inform the crowd that the maximum eclipse for the UWG location had officially taken place.
After the solar eclipse, many UWG students were proud to have experienced a historical moment.
"It's great to be a part of history and actually watch it," said Earnest Rainer III, UWG student.
While many people attended the solar eclipse, the Department of Psychology went together as a group. One student in particular felt that the solar eclipse created a moment of intimacy.
"When the eclipse reached its full mass, I looked at the psychology department I am with here and thought, that's beauty right there," said Galen Roehm, a Psychology major at UWG. "We had actually just had a lecture on what beauty is and what is beautiful, so I was enjoying this kind of intimacy and connection with a feeling of being at home sort of."
It was a spectacular experience, and all who attended are eager for the next eclipse, which is scheduled for April 24, 2024.