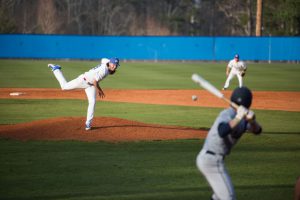 The UWG Wolves baseball team welcomed the Mississippi College Choctaws to Cole Field to kick off a three game-series after their first loss of the season to Columbus State. The Wolves came into the series ranked ninth in division II collegiate baseball. The Choctaws, a Gulf South Conference opponent, came into their first Gulf South Conference series unranked with a record of 8-1.
"I'm really excited about about this UWG baseball season, their early start has given me and my friends something to cheer for," said UWG student Gregg Lanier. "It's always great to see your own school do well in sports and baseball is my favorite sport, so it works out perfectly."
The Wolves have been very exciting through the first part of the season, and have outscored their opponents by more than six runs. This was a good opportunity for Lanier and the Carrollton community to get a taste of competitive baseball in February.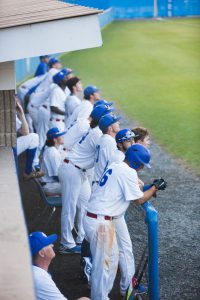 In the first game of the series, the Choctaws came out early in the first inning with two runs. The Wolves later tied the game, but a three-run homerun by the Choctaws in the fifth propelled them to a 7-3 victory in the first game of the series.
The second and third games of the series consisted of a Saturday doubleheader beginning at 12 p.m. The second game of the series began well for the Wolves who were up 2-0 after three innings. The Choctaws jumped ahead scoring a run in the fourth inning and were up as far as 7-2 after success in the fifth. Though the Wolves later replied with two runs, they were unable make up the deficit and fell to the Choctaws 7-5.
However, the talk of UWG baseball is the performance that Wolves' pitcher Wes Bucher provided in the second game of the doubleheader. Bucher gave up only two hits, no runs and earned seven strikeouts in his seven innings pitched.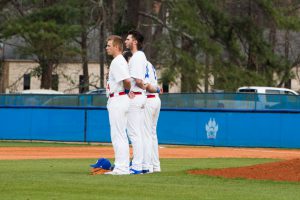 After his game against the Choctaws, Bucher has posted a 4-0 record on the mound, and he pitched a shutout against a highly competitive team. Bucher's performance on the mound, and the run scored by Bradley Felker off of an error in the sixth inning helped get the Wolves the 1-0 victory in the final game of the series. Though the Wolves lost the series to the Choctaws 2-1, they managed to scrape together a big win in a tough matchup.
The 11-3 Wolves will continue their season when the University of North Georgia travels to Cole Field on Feb. 28. The Wolves will then head to Memphis, TN. on the first weekend of March to take on the 3-9 Christian Brothers Buccaneers
Comments
comments