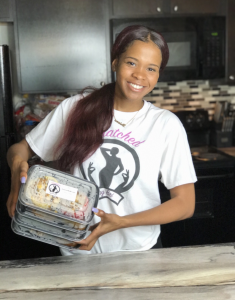 A UWG student recently turned her weight loss tactics into a health and wellness business. In her sophomore year Briana Brown, a UWG Mass Communications major, joined the American Muscle Fitness Club Association (AMFCA) in an attempt to lose weight. She lost 30 pounds as a result of her efforts. To help others meet their fitness goals, in June of 2017, she launched a health and fitness business called "Snatched by Bri."
Her business offers meal prepping guides for breakfast, lunch, dinner and two snacks along with exercises to help people meet their fitness goals. Various types of meal prepping guides include weight gain, weight loss, maintaining your weight, pescatarian a vegetarian option coming soon. Since the launching, she has expanded to vlogging and training for AMFCA.
"My mission is to help others meet their fitness goals as well as change their life," said Brown. "Meal prepping, eating healthier, bettering myself overall has really helped me in my life. I am so much happier spiritually, mentally and physically, so I hope to do the same for others."
When Brown was a freshman, she was a Psychology major. After starting her business, she had hopes of doing something in the field of nutrition, however UWG did not offer exactly what she was looking for through the Community and Wellness degree. As a result, she created a degree plan for herself that she thought would be most helpful in pursuing her goals. Brown switched to a Mass Communications major with a concentration in Film and Video Production. She also declared a minor in Marketing. She felt that by switching her major she would be able to obtain the skills she needed to expand her business upon graduation.
"This is a perfect way to show people that I am an entrepreneur and if the school doesn't allow you to do something, there is no limit, you need to find a way to do it yourself and so this was my way to bring nutritional education," said Brown. "There is nothing that anybody can limit you to, continue to go, everything takes time and you have to be patient."
Recently launching her YouTube channel has also provided Brown another outlet to educate people. On her channel, "WithBri," she shares beauty, health and fitness tips.
"Anything to [help others] gain confidence is what I am pursuing," said Brown. "Once I graduate, I want to take off on YouTube and then I want to have my own cooking show, and I would like to publish my own cookbook with recipes and pictures, and exactly how-to meal prep."
For now, Brown is hoping to collaborate and network with other businesses and entrepreneurs. She wants to continue to push herself outside of her comfort zone to get her business known. As a growing industry, focusing on health and fitness has given Brown the opportunity to go for it.