UWG Alum J. Bruce Hildebrand (BA English '73) has created a scholarship supporting gap funding at the University of West Georgia in memory of his late wife, Sarah McCray Hildebrand. Sarah died in 2007 at 51 years-of-age. Described by a lifelong friend as a "shooting star," Sarah was a leader in high school and community organizations in her hometown of Evansville, Indiana, at the College of William and Mary and professionally. "I am still in awe of all that Sarah accomplished during her lifetime, both in her youth and in her career."
A success story himself, Bruce's passion for wanting to support gap scholarship funding comes from his limited financial resources as a college student and his belief that a college degree, coupled with dedicated, hard work, are essential to becoming successful in one's life. While a student at West Georgia, Bruce helped support himself by taking on as many odd jobs as he could find to get by, including hanging wallpaper in West Georgia College President Ward Pafford's private residence (currently the site of the UWG Alumni House). Other positions included news editor of the Alpharetta Neighbor and the Roswell Neighbor newspapers, which helped earn him the editor-in-chief position for the West Georgian as a student.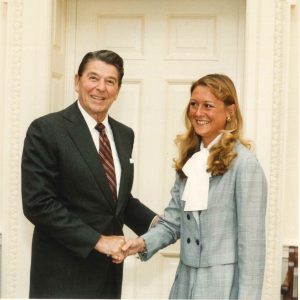 After earning his English degree from West Georgia, Bruce continued to have success in professional writing experiences, serving as a radio commentator, magazine editor and speech writer, and holding leadership roles in Republican campaign politics under the administrations of three U.S. presidents. He also served as the president and CEO of an international consulting and development firm operating in conflict and war zones, was a senior vice president for a global public relations firms and retired as the Executive Director for Higher Education for the Association of American Publishers (AAP). However, as Bruce will share, his desire to create this opportunity for West Georgia students is not to highlight his successes, but to create a legacy in memory of his wife, Sarah. Born December 28, 1955 in Evansville, Indiana, Sarah's "brains and beauty," as Bruce proudly describes her, earned her recognition at a young age, such as Class Valedictorian of her high school (1st in her class of 474 students), president of the National Honor Society, receiving a scholarship as a Presidential Scholar, and as a singer-dancer-actress in the chorus of the University of Evansville's New Harmony Theatre Company.
Following high school, Sarah double majored in Economics and Government at the College of William and Mary, was a member of the Homecoming Court as a freshman, interned for the Southern Indiana and Kentucky Regional Council of Governments, and was a member of Pi Beta Phi Sorority. Sarah also had to help pay her way through college working several jobs, including in the dean's office, as a dormitory resident assistant and as a waitress and restaurant manager.
Relying on her varied leadership experiences and internal drive for success, Sarah headed to Washington, D.C. following her days at William & Mary. She gained success and recognition at the national level, serving as Director of Information Services at the National Republican Congressional Committee and as Deputy Director for the White House Office of Presidential Scheduling for President Ronald Reagan (see picture). She also served in several other influential public service roles, including Director of Congressional Affairs for the Commerce Department's International Trade Administration by appointment of President Ronald Reagan, Deputy Assistant Secretary at the Treasury Department by appointment of President George H. W. Bush, Senior Vice President for Congressional and External affairs at the Export-Import Bank of the United States by appointment of President George W. Bush, and senior operations adviser at the Defense Department for the WWII 60th Anniversary Commemoration Committee. In the private sector she was Vice President for Governmental Affairs for the American Forest & Paper Association.
Personally, she sought balance from the often high-stakes political arena in gardening and rescuing Labrador retrievers, as well as a lifelong passion for fishing instilled by her grandfather. Her travels to seek out the best fishing destinations took her around the world to lakes, streams, and oceans in the United States as well as Belize, the Grand Caymans, Costa Rica, Honduras, and St. Martins. Like her husband, she, too, was always looking for ways to support the next generation and worked with an inner city girls' group in Washington, D.C. to mentor them in social skills, education and communications.
"The reason I want to create this scholarship at West Georgia is to honor Sarah, her successful career and the impact she made on my life and the lives of so many others," Bruce shared. His advice to students who will be supported by this gift is a simple, but powerful message. "Work hard. Hard work is your greatest asset. Understand where you want to go, how to present yourself to an interviewer, and what skills you need to qualify for the position you are seeking. By creating this scholarship I hope to enable others to have the incredible experience at West Georgia that I did and to learn the power of being confident, professional and committed in all that they undertake, as Sarah did."
Comments
comments