The University of West Georgia's Center for Adult Learners and Veterans (CALV), has launched a new project to get veterans credit for prior learning based on their Military Joint Services Transcript (JST).
The JST provides documented evidence, to colleges and universities, of the professional military education, training and occupation experiences of service members and veterans. It was created by the American Council on Education (ACE) and is accepted by more than 2,300 universities and colleges.
ACE put together a panel of faculty members from different colleges and universities around the U.S. to investigate various military pieces of training and determine which ones could be equivalent to college credit. From there, they send out their recommendations to schools.
CALV's new project aims to use these suggestions to help veterans get more credit for the things they already know and avoid repeating courses, thereby speeding up their graduation track.
"What has typically happened in the past is that if the recommendation from ACE was three credits of lower level management coursework, for example, the registrar's office would offer three elective credits in management," said Danny Gourley, Director of Center for Adult Learners and Veterans. "What we're doing now is trying to look and see if there is a particular course that we can merge this with."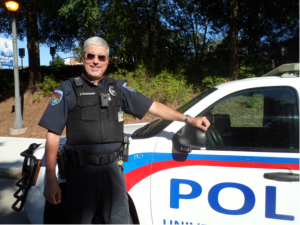 A lot of other universities also offer plenty of credits for military training, although not all the credits usually count towards their degree. This can end up creating some problems for some veterans, so CALV is taking extra care to assign the right credits.
The first college to jump onboard the project was the College of Social Science in the summer of 2016. Now, all colleges and the registrar's office work together with CALV to ensure the project is successful. A total of 35 exhibits have been reviewed by faculty, with only 20 being approved for credit.
"The system we have worked out on campus is that if you've had a recruiter training, we send that to the faculty, and then the faculty member decides if it is the same as their course," said Gourley. "When they say yes, that's when we inform the registrar. This information is then kept in a big spreadsheet that is shared with the deans and registrar's office."
So far, 22 UWG students have benefitted from the project including Jeffery Flaugher, a police officer with the University Police Department. He recently retired from the military with 22 years of service.
"I attended many leadership schools that were not Military Occupational Specialty (MOS) specific that can transcribe to different curriculum here at UWG," said Flaugher. "While some of the terms used in the military may be different than that on the civilian side, the core work is the same, and transitions well when applying those skill sets learned in school against the curriculum taught here."
Flaugher believes the credit for prior learning project will be of great help to him and recommends it for future veteran students. It will save both him and others considerable time in receiving their degree.
"My credits are still under review, but there is a lot of opportunities to receive credit for subjects that I have been doing for years while in the military," said Flaugher. "Prior service members should bring in their DD-214 (discharge papers) as well as any certificates they were awarded to see if it would apply to them. It could be well worth the effort and could save them a lot of time and money."