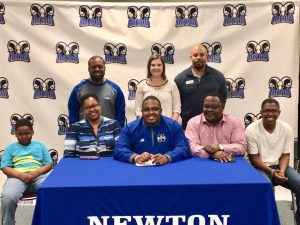 Athletes of the high school level typically share a common goal, that is to become good enough to play at the collegiate level. Only a select few accomplish this, with about 3% of high school athletes playing in college. Their journeys are filled with trial and tribulation, and often times the defining moment of their lives is when they know the work has fully paid off. For high school athletes, that life-defining moment is when they are sitting at a table next to their family and are able to announce where they will play in college. One of these exact moments took place on March 28, when Newton High School's Remy Naza Jr. committed to the University of West Georgia.
Remy Naza Jr. is a 6'3" and 270 lb offensive lineman for Newton High School in Covington, GA. He was born in the Republic of Cote d'Ivoire, otherwise known as Ivory Coast. He and his parents moved from the West African state in 2000 shortly after his birth and have lived in Covington ever since.
"My parents worked hard coming from somewhere that's not the United States," said Naza Jr. "That blue-collar type mentality was instilled in me from an early age so that's what has helped me get here to where I am right now."
Naza Jr's. commitment to UWG is one that most players may not have gone through with the given circumstances. Despite earning scholarship offers from schools such as Wingate University, Jacksonville University and Miles College he accepted a walk-on position at UWG with no scholarship included. Turning down money is never easy, however Naza knew early on how good of a program UWG is.
"We went to a team camp at West Georgia two years ago, so I already knew they were a good football school," said Naza Jr. "They've got good offensive lineman, they've got people that they're putting in the (NFL) draft so I'm hoping I can be one of those guys one day."
Naza is not solely coming to West Georgia because of football. As a young man and a student above all, academics was one of the main things that sealed the deal in his decision to commit to UWG despite not getting a coveted scholarship.
"Not only is their football team on the rise but their school is on the rise and one of their most respected majors is their Biology major which I'm trying to major in," said Naza Jr. "It's close to home, they have my major and they're good at putting people in the field with that major, so those were some of the biggest factors that came into my decision."
As most college athletes have typically been playing their particular sport since a young age or for the majority of their lives, Naza did not begin playing football until his freshman year of high school. If not for a coach believing in him, his career may have never formulated.
"Coach Tommy Gregory here asked my mom to let me play football in 7th grade and she didn't let me play at the time," said Naza Jr. "He followed me all the way to high school and she ended up letting me play because of the fact that he was coming here to coach at Newton so he's the person that helped start me up."
Going from never having played football to being a college-level player is impossible without diligence and continuous hard work. Naza has prided himself in being a hard worker and continues to put in the work as he prepares to become a college athlete.
"I've been working real hard in order to get to where I am now," said Naza Jr. "In 9th grade I started as someone with no football experience, now I'm somebody who's been on the All-Region Team twice now."
He credits the early morning workouts that the team would partake in as a major factor in his improvement.
"We'd come in at around 5:50 in the morning and we'd work out until 7 or 7:30 and then we'd go watch film for 20-30 minutes and then shower before school," said Naza Jr. "Now that the season's over I come in the afternoons and do a lot of heavy lifting to help work on explosion and strength."
While being strong and fast is a requirement in football what matters most are the intangibles and Naza knows it is the little things that separate himself as a great football player.
"Things like being a team player so you know certain things to do in certain situations because of how it'll affect the team not just yourself," said Naza Jr. "I'm a leader, I've been a captain, small stuff like that can help a team out especially like West Georgia who are on the rise."
While the journey has been unconventional Remy Naza Jr. is accomplishing what a mere fraction of people with the same admirations can say they have done. He will be a student of UWG and a member of the football team in the fall semester. Whilst not a household name just yet, a player with a mind as gifted as his will go places in life much further than just the gridiron.
Comments
comments