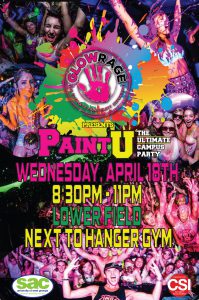 The University of West Georgia will not be hosting their annual spring concert in 2018 due to insufficient funds. However, UWG's Student Activities Council will be using the money that they do have to celebrate the ending of the school year on April 18 for a beach themed party. This event will provide UWG students with an array of fun activities and free giveaways for the student's efforts throughout the 2017-2018 school year.
The festivities will begin with the annual event known as the Spring Fling. The beach themed event will be held in Love Valley and will begin at 3 p.m. and end at 7 p.m. Spring Fling will have activities for students of all interests. The University will be providing rides, inflatables, free food, a DJ and a dunking booth. Students will be able to relieve their stress of the upcoming finals week by dunking UWG staff such as UWG President Dr. Marrero, head football coach David Dean and multiple members of UWG's Center for Student Involvement.
"It's going to be a lot of fun, it's kind of like an end of the year spring celebration," said Emily Teitelbaum, Associate Director for Student Events and Programs, and participant in the dunk contest. "We start the fall semester with the Big Welcome Back Blast, and end the spring with the Spring Fling."
After the Spring Fling, students will be encouraged to head towards UWG's Hangar gym. On the practice fields outside of the Hangar gym, the University will be hosting their second ever GloRage party at 8:30 p.m. There will be white t-shirts representing the GloRage logo given out to the attendees, as well as glow sticks, and nontoxic paint. The environment will consist of electronic dance music, and gallons of paint that will be shot into the crowd from all directions.
"We hosted our first GloRage during the beginning of homecoming week two years ago, and it was huge" said Teitelbaum. "We had almost a thousand students at that, so we are hoping for that again this year."
These events are a great way for students to have a good time together before the stressful week of finals.
Comments
comments