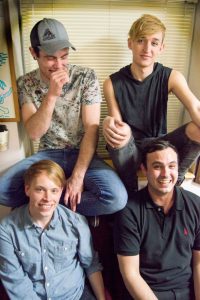 The Annual WOLFStock hosted by The WOLF Internet Radio featured a number of artists and groups that rocked the campus center on Thursday April 5. Three stages hosted all kinds of bands across the venue, with the rock band Survival Kit rocking the Riverpointe Stage with a mix of covers and original pieces.
Survival kit is comprised of four members, Lead Travis Blake, Singer/Guitarist Andrew Lynn, Bassist David Braden and Drummer Bryson Davis. The giggly and humorous musicians enjoy partying and music, as well as spreading the beauty of music with their fans. Guitarists Blake and Lynn have been playing together for two years, but what is interesting about Survival Kit is they recently integrated Braden and Davis, and were able to quickly build the chemistry necessary to host a festival set.
Braden and Davis were added to the group barely two weeks before they took the stage at UWG.
"We went through a bunch of personnel and stylistic changes, but now we have finally found a sound that works and we are happy with it," said lead singer Travis Blake.
Survival Kit played a mix of popular covers, such as Twenty One Pilots "Tear in My Heart" and origins singles like "Panic Room" and "Ready to Let Go." The rock, rhythm and funky guitar riffs kept fans heads nodding to the beat of the music.
"Our songs have a story behind them," said Blake. "Andrew (Lynn) and I used to live in a legit filthy trap house, we had no power, couldn't control the heat, and that was how we came up with 'Panic Room.'"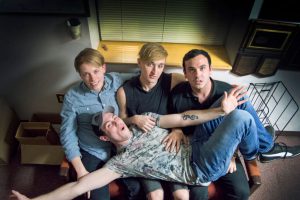 "'Ready to Let Go' explained how we decided we were sick of the things we dealt with in 'Panic Room,'" Blake continued. "It's about letting go of things that can hold you back whether it is a person, place or thing that one may have an addiction to."
During the show, Blake mistakenly dropped his guitar pick in the middle of a song, and was able to continue playing without his pick. He simply kept strumming with his fingers and gestured to the fallen pick when somebody from the audience reached to hand the pick back to Blake, which led to a shout-out from the band and a cheer from the crowd.
"I have really bad anxiety," said Blake. "It used to be where the smallest problem would happen during a set, and we were always like 'Fuck! What will we do?'"
"But after a few shots of tequila," Blake continued. "It is easy to not let the small things bother you, to just go with it and focus on having fun and putting on a great set. I just got my pick back from that guy and kept playing. Anything can happen onstage. If somebody comes up to the stage and says 'Take your pants off,' you better believe I'm going got take my fucking pants off."
Bake always wears Leopard print underwear during his shows in case such a request is brought up. Fortunately (or unfortunately for certain people in the crowd) the request was never made, and Blake's pants stayed on for the entire show.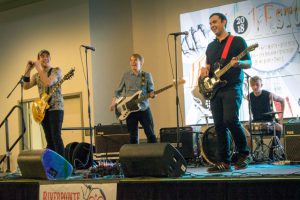 Survival kit is looking to release an EP in the future called "Lalochezia," which is defined as the relief a person gets from using filthy or dirty language.
"I say 'fuck' a little too much," said Blake. "But we feel like the relief that feeling brings is how we feel now when we write music. We are much more comfortable now and we feel that same relief when we play that when somebody says 'fuck.'
This was not Survival Kit's first WOLFStock, and this experience was just as good as their previous one.
"The sound and people are always very good," said Blake. "But when you have a backstage crew carrying your shit in, that's legit. That was really cool."
"We felt like royalty with everybody helping us backstage," said Lynn.
Survival Kit will be touring around the southeast rocking venues throughout the summer.