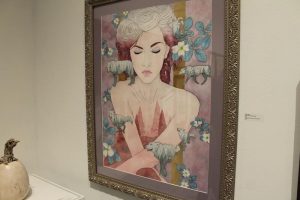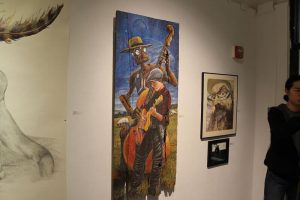 The annual Juried Student Art Exhibition Reception took place on Thursday, Jan. 26 from 5 p.m. to 7 p.m., at the University of West Georgia. Current UWG students were encouraged to submit their artwork to be displayed to the public. This reception was only the beginning of the Juried Student Exhibition, which carries from January 26th through March 2nd in the Bobick Gallery and Gallery 2 in the Humanities Building. Many of the pieces are up for sale to the highest bidder, providing the opportunity for students to be rewarded for their artwork.
"Every year we select an independent juror to pick the work that they think is the strongest work that best represents the university," said Stephanie Smith, who is a Lecturer at the University of West Georgia as well as gallery director. "We get gallery curators, museum workers, independent artists and people that work for non-profit art organizations, professionals in the field to review the work and pick out the strongest and the pieces that they like the best."
This year, UWG had the honor of selecting Yu-Kai Lin who is the director of Kai Lin art gallery, located in Atlanta to be the 2017 Juried Student Art Exhibition Juror. Lin spends a lot of his time in art exhibitions and deeply focuses his attention on emerging artists. A graduate from Emory University, Lin is heavily involved in the art scene in Atlanta and spends much time collecting art to be displayed in his gallery. Some of his most famous, Atlanta based collaborations are with The High Museum of Art, The Atlanta Botanical Garden, Turner Broadcasting, and Coca Cola.  
Several awards and prizes were chosen and selected by Lin and given to the artists with artwork that is deemed the best. These awards included, first, second, third place, best in show as well as merit prizes.
"It's really exciting and students can win awards that help them cover the cost of making more artwork," explained Smith.
The reception was full of people of all ages ranging from students to senior citizens. The artwork was displayed in the first and second floor galleries. People visited both floors to observe the pieces of art, which varied from paintings to sculptures.
"It's a great opportunity for students to exhibit their artwork to the public as well as get professional experience in how to frame and represent their work," said Smith.
The Juried Student Art Exhibition is an opportunity for students to express themselves through the use of visual art, as well as compete with one another to win various prizes and awards. With the newly added sculptures and paintings on and around campus, UWG and the Carrollton community seem to be making a conscious effort to increase their art presence.  This exhibition helps UWG artists contribute to that art presence in their own unique and special way, and allows them an opportunity to get their work seen and recognized.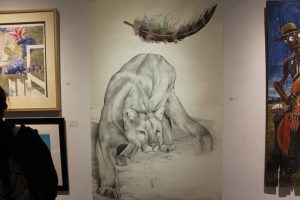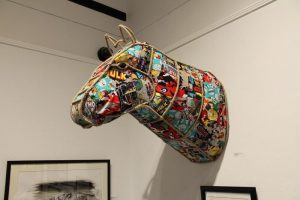 Comments
comments